Ralston School celebrates coronation
Posted on May 18, 2023 by Ryan Dahlman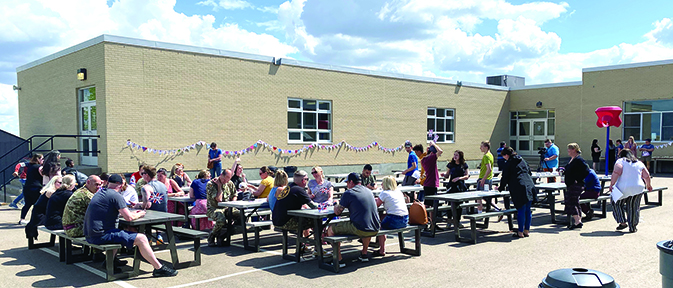 Commentator/Courier Photos by Anna Smith Ralston School students, staff, and parents gather in the courtyard on May 10th to celebrate the coronation of King Charles.
By Anna Smith
Commentator/Courier 
Ralston School served tea, sang songs, and took Wednesday afternoon to celebrate the coronation of King Charles III.
"We have a large British population in our schools that come from the British armed forces, and we wanted to honour the coordination and the history and the tradition that comes with the coronation and helped the kids to kind of understand the importance of it," said Ralston School Principal Stacey Nunweiler. 
This is the first coronation in many people's living memory, said Nunweiler, including many of the parents and staff that attended the celebration, and as such, it was important to properly mark the occasion.
The afternoon featured the reading of letters from a writing competition, a reading of a book on the history of the new king, as well as a singing of O Canada, God Save The King, and a rendition of Sing for the King, as performed by the entire school.
"We just wanted to show that all of the kids were participating in the learning, like getting this all set up was relatively easy, or we have all of our staff were really on board, they understood the importance of it. And I think because of that the kids understood that it was important to take the time to celebrate it as well," said Nunweiler.
"There's more buy in, the younger they are, but even our older ones chipped in, they made the sandwiches and the tea that were put out. They helped set up tables. And so they made a bunch of some of the decorations and stuff. So even though they, you know, might not have been thrilled on singing, they were still really a part of the whole thing."