Cypress County announces citizens of the year
Posted on June 15, 2023 by Ryan Dahlman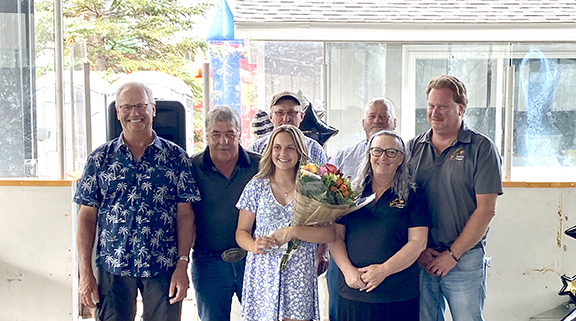 Commentator/courier Photo by Anna Smith Pillars of Community: Council takes a picture with Emma Baedke at the Community and Volunteer Appreciation Barbecue at Sunrise Park in Dunmore.
By Anna Smith
Commentator/Courier
At the June 7 Community and Volunteer Appreciation Barbecue, Cypress County was thrilled to present Cypress County's Citizen and Young Citizen of the Year.
Sunrise Park and the new EDF Renewables Outdoor Recreation Centre held an opportunity for county residents to get a burger or sausage from Premium Sausage, who had helped with the barbeque, and take a moment to properly think about the spirit of community in Cypress.
"Since 1989, Cypress County has been recognizing contributions from individuals who display continued perseverance to causes that benefit those who live and work in the County," said Beth Cash, Economic Development and Recreation Coordinator for Cypress County. "Today we recognize not one, but two Cypress County citizens that display such a commitment."
This year, Jody Phillips and Emma Baedke were selected for Cypress County's Citizen and Young Citizen of the Year, respectively.
Phillips is the secretary of the Dunmore Community Association. She joined the community association in 2020 and has been integral to numerous projects, most notably the EDF Outdoor Recreation Centre.
Meanwhile, Young Citizen of the Year is a brand new award given to a youth in grade school, and Baedke, who was the Dunmore Equestrian Centre's Little Britches Rodeo Sweetheart last year, is a perfect recipient. The Grade 9 student at Seven Persons School regularly helps younger students, is on the volleyball team, and is described as a "ray of light" to those around her, said the County in a press release.
"Our municipality is truly blessed with groups and individuals who selflessly give their time, energy, and skills to improving the lives of Cypress County residents," says Reeve Dan Hamilton. "We are tremendously lucky and proud to have Jody and Emma as part of our community."
"If you know of a citizen that should be recognized for their efforts, we encourage you to nominate them next year for this award," said Cash, who then invited those attending the barbeque to enjoy the bouncy castles present. The event was made possible by the endless work of volunteer organizations who make the County a safe place to work, and a fun place to play and live.