Welcome Centre all geared up for County celebration
Posted on July 6, 2023 by Ryan Dahlman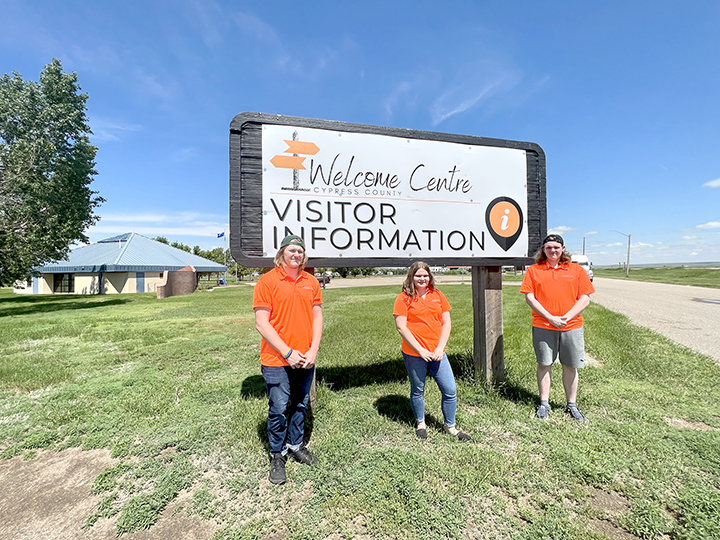 Commentator/Courier File Photo
By Anna Smith
Commentator/Courier
Nearly everything is set for Celebrate Cypress County Day, and the attendants at the Welcome Centre near Walsh are excited to have residents and visitors alike out to celebrate with them.
From 11–2pm on July 15, the center will be crowded with the HALO helicopter, Laura's Food Truck, and a yard full of various games for those who stop by ready to enjoy an afternoon in what will hopefully be sunny weather to see what the County has to offer.
"Our Badlands Boutique will be open. One of our artists is doing a book signing, and we'll have a dinosaur themed photo booth, a colouring station and craft station, face paint and giveaway bags," said Emily Haukeness, one of the four Welcome Center attendants. 
At the time of the interview, the center was still reaching out to a few businesses to hopefully get them on board for the giveaway bags, but otherwise the event is fully put together and ready to go for July 15.
"It's been good. We get to contact a lot of local businesses to see if they'd like to participate in our giveaway bags. I really enjoy making advertisements and planning events. And working as a team to get everything organized is nice," said Haukeness, who added that they've been planning since they first opened in late May in order to make this happen, or for about a month and a half.
"I think it's just really a celebration to get the community together and celebrate what we have here within Cypress County," said Haukeness. "We are really excited. We're hoping to see our work pay off and hopefully have lots of turnout, so hopefully everyone can make it and have a good time."