Hilda celebrates 100 years
Posted on August 3, 2023 by Ryan Dahlman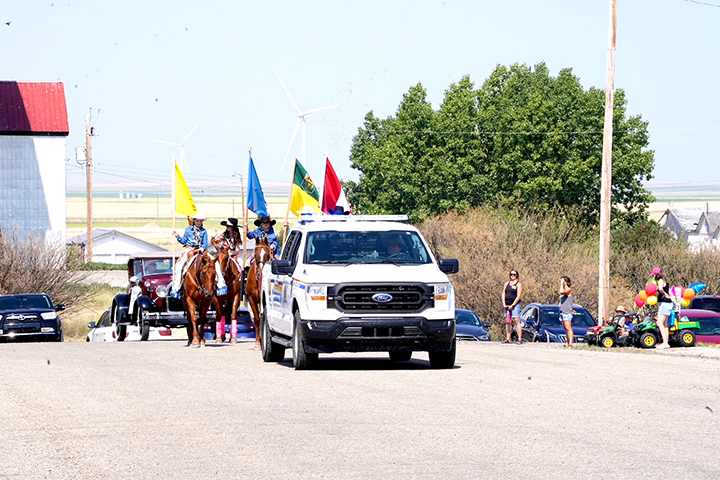 Commentator/courier Photo submitted by Cheryl Dust, Duster Video
By Anna Smith
Commentator/Courier
Despite the high temperatures over the July 22-23 weekend, the Hilda Centennial Committee was thrilled to see all of their work bear fruit.
"We are feeling very happy and relieved that it's over. And just amazed by how everybody responded and how everyone pitched in and helped. It was just really a blessing to see everyone take ownership of what happened," said Linda Anderst, a member of the centennial committee.
"When we had our work days, we had an excellent community turnout for getting the town ready and it was great. We're all sort of basking in the knowledge that we pulled it off. And it was enjoyed by many, many people," said Anderst.
They estimate that just over 600 people attended the event, with roughly 580 signed up guests and then about 30 more people attending just for the fun events that took place over the course of the day.
"It got a little crowded then in the hall, but otherwise, I guess we can fit 600 people in Hilda, still," said Anderst.
The day featured a street dance, parade, and various displays from community members, as well as a paleontological presentation by Jordan C. Mallon.
"It was very cool to have Jordan Mallon there (to) give a presentation about the excavation of the Chasmosaurus in the Hilda bone bed," said Anderst.
The committee is deeply grateful for everyone who made the event possible, as it wouldn't have been possible without the hard work of so many volunteers, as well as everyone who stepped up to be part of the parade.
"We have an amazing small community with a lot of spirit and many, many, many volunteers just stepped up to make this day happen. We also appreciate all the sponsors that we got from the local area, different farmers, and from…businesses just from the area and also our surrounding communities," said Anderst.
There were a few hiccups, such as one individual who did suffer from the nearly 40 degree weather on July 22, but Anderst reports that he was taken care of and is feeling just fine now.