Haynes is home ice hero
Posted on January 26, 2016 by 40 Mile Commentator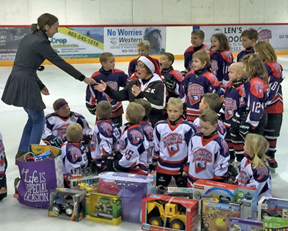 SUBMITTED PHOTO - Laurie Haynes was clearly surprised when she learned she was named ATB Financial's Home Ice Hero.
By Jamie Rieger
It was in mid-December when Laurie Haynes had practice with the Bow Island novice and initiation hockey players and were getting ready to take a few photos of their donations to the annual Joy of Giving campaign.
What Haynes did not realize at the time was that a plot was afoot to present the long-time hockey and skating coach with an award for her years of volunteering on the ice.
Even when people from the local ATB showed up, Haynes did not take notice as she was busy preparing for the Joy of Giving photos. It did not dawn on her at all that she had been named the ATB Financial's Home Ice Hero, a contest that ran before the holidays.
"I knew I had been nominated in October, but I never gave it another thought," said Haynes, who was completely surprised by the win.
"I was in total shock," said Haynes, who comes from a hockey family.
Haynes began coaching power skating and figure skating at 12 years old, has coached hockey  and has taught hockey school in the past.