Byam sets up to go to Winter Games
Posted on February 2, 2016 by 40 Mile Commentator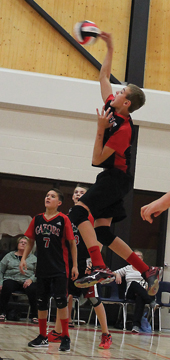 PHOTO SUBMITTED BY KAREN BYAM - Bow Island's Christopher Byam has been selected to the Zone 1 men's volleyball team for the upcoming Alberta Winter Games, taking place in Cypress County and Medicine Hat Feb. 13-16.
By Jamie Rieger
Lots of hard work and dedication to the sport has Bow Island's Christoper Byam representing his hometown on the men's Zone 1 volleyball team in the upcoming Alberta Winter Games, being held in Medicine Hat and Cypress County Feb. 13-16.
The 6-foot, two inch, 14 years old said being selected to the team is very exciting and he has been working hard since before Christmas practicing with his Winter Games teammates.
"It is very exciting. Every Sunday, we have two practices in Medicine Hat, (one for the Winter Games and one club practice) working on different drills to get ready and we have been improving a lot," said Byam, who typically plays middle.
Byam, who also plays hockey and school sports, said he makes a lot of new friends through volleyball, some of whom are joining him in the Winter Games competition.
Byam attended two tryouts, one in Lethbridge and the other in Medicine Hat in mid-December and learned shortly after that he had made the squad.
The Zone 1 men's volleyball team will be coached by Joey Arsenault, who is also Byam's club coach.