Foremost girls take bronze at Zones
Posted on March 14, 2017 by 40 Mile Commentator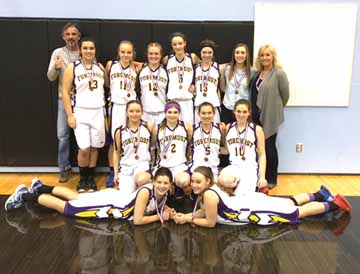 Photo submitted by Corinna Roth-Beacome
The Foremost senior girls' team came from behind to beat Senator Gershaw for the bronze medal at Zones in Lethbridge last week.
Pictured, back row, from left: John Baugh (assistant coach), Paris Beacome, Jenna Seefried, Stephanie Mueller, Kamryn Yancie, Morgan Brower, Jaryn Rumpel (assistant coach).
Middle row: Makenna Ormann, Lacie Baugh, Thomson Gairns.
Front row: Hanna Walsh, Rayna Yancie.