MacPherson reflects on first season with Tigers
Posted on April 25, 2017 by 40 Mile Commentator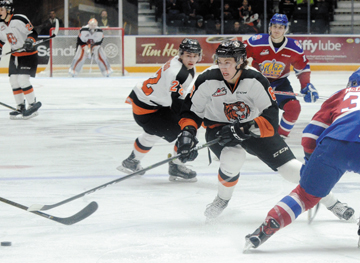 Southern Alberta Newspapers photo by Ryan McCracken- Medicine Hat Tigers defenceman Dylan MacPherson made an impact on the back-end down the stretch and earned a spot in all 11 playoff games.
By Justin Seward
For rookies, it's difficult to crack the line-up on a nightly basis, but for 18-year-old Medicine Hat Tigers rearguard Dylan MacPherson, he was able to amplify his game in the second half of the regular season and into the 2017 postseason, while earning more of the coaches trust. The smooth skating Redcliff kid played in 51 of the 72 regular season game, while being slotted in all 11 playoff games.
"It was a huge confidence booster knowing that the coaches trust to put you in that many games consistently towards the end of the season ," said MacPherson. " I think I earned their trust by doing the little things right, night in and night out, and going as hard as I could in practice and in the work outs after practice."
His main role in the post season was to shutdown the opposition's third and fourth lines  and  with an electric atmosphere like Medicine Hat's, the players were only  encouraged to play to their utmost potential.
"It was a great experience playing in  all those games and how different the postseason is compared to the regular  season and how much more competitive it is," said MacPherson. "Everyone was amped up and everybody was playing to win no matter what. There's no more two points on the line. It's just win and move on.  I think we gelled really well in the regular season. I think we all stuck together during the postseason and never quit."
Being the hometown boy on the team can have its distractions including friends and family but for the 18-year-old he couldn't imagine playing anywhere else besides being a Tiger and living off his mom's home cooking.
"I don't know if I could answer that question because it's hard to say," said MacPherson. "You don't ever really want to leave home. But I'd hope I'd get a billet just like my mom, a great cook and big meals. I forsure like being a hometown kid. It's fun being able to play for your hometown and going home being able to sleep in your own bed at night, that's awesome."
He plans on coming back next year with higher expectations and hoping to gain interest from then next level. Tigers assistant coach Joey Frazer specialized with the defencemen all year long and noticed MacPherson's game skyrocketed in the second half because he was able to use his skating ability  to take charge with the puck more.
"It really gave the coaches confidence to put him out there," said Frazer. "It was really hard to keep him off the ice. He did an outstanding job for his first year and continuing to improve throughout the season. Hopefully he has a great summer and is ready to keep that track up next year."
Frazer added most rookies shrink in the intensity of a playoff environment but for MacPherson he was level headed and played through the playoff hockey obstacles.