Weiss heading to Prospects Cup
Posted on April 25, 2017 by 40 Mile Commentator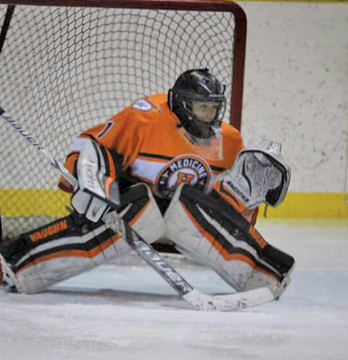 Photo submitted by Renae Weiss- Bow Island's Bodee Weiss will be representing southern Alberta at the upcoming Peewee Prospects Cup, being held in Lethbridge on May 10-14.
By Jamie Rieger
Bow Island's Bodee Weiss is always working to improve his skill as a goaltender and gives a lot of credit to the coaches he has had along the way in helping him step up his game. Their guidance and encouragement has certainly paid off as Weiss was recently selected to play for the Team Alberta South Yellow team for the upcoming Peewee Prospects Cup, taking place in Lethbridge next month. Approximately 200 kids tried out for the South zone team, 30 of them goalies. Of the 30, Weiss was one of four goalies to be selected for the Team Alberta South Yellow team.
After playing for the Bow Island Rebels, Weiss opted to tryout for the Medicine Hat Hounds Tier 1 team to increase his skills and play in a more competitive atmosphere.
"The hockey is a little more competitive and when I tried out I was a little nervous at first, but when I saw the other goaltenders, I knew I could handle it," said Weiss.
Since joining the Hounds for the 2016-17, Weiss has racked up some impressive accomplishments under coaching staff James King, Scott Pahl, Ryan Herman, Wryan Smith, and Todd Currie.
"This year, we really lucked out with the coaching," said dad, Lyle.
Weiss has also been working with J.F. Martel, an instructor with World Pro Goaltending who has been a goaltending consultant for the Medicine Hat Tigers since 2007.
With extraordinary coaching and mentoring, Weiss's game has improved and he's racking up the achievements. On top of being selected to the Peewee Prospects Cup, Weiss has numerous accolades under his belt for this season, including:
-undefeated regular season
-undefeated playoffs
-undefeated Provincial Playdowns
-undefeated at Provincials Peewee A, winning Gold Medal
-Named Vaughn Goaltender of the Month for March, 2017 from World Pro Goaltending
-Played in the Iceberg Classic 3 on 3 Tournament and won the Peewee Division
When looking at his stats, it should come as no surprise that he has gone as far as he has with his goaltending. In 30 games played throughout the season, he has 27 wins – 2 losses – 1 tie (27-2-1), 659 shots 610 saves 49 goals against, GAA 1.63, and SA% 0.926.
Weiss give a lot of credit for his success to his older brother, Cobey, who has been one of his greatest sources of encouragement.
"I would not be as good if it wasn't for him. Every game, he would stand there and videotape it and we would go over it after," said Weiss, whose parents, Lyle and Renae are 100 percent supportive of their son's endeavours.
It was his Bow Island Rebels/Foremost Flyers coaches Garth Porteous, Lynn Degenstein, and Darcy Huisman who provided much of the inspiration and encouragement to work hard in his pursuit to fulfill his hockey dreams.
Currently, Weiss is doing what he can to prepare for the Prospects Cup. With players scattered throughout the zone,  he has been on conference calls with teammates, getting to know them. They will have one practice together the day before the tournament.
Weiss also plays spring hockey with the AAA Foothills Firestorm. Two of his teammates from this team will be joining him at the Prospects Cup.
The 2017 Peewee Prospects Cup runs May 10-14 in Lethbridge.