MacPherson looking to build on first full season with Tigers
Posted on September 5, 2017 by 40 Mile Commentator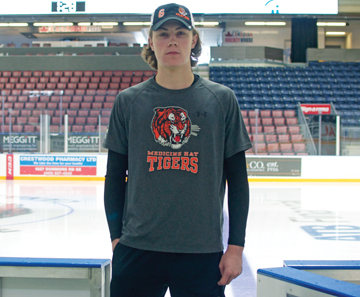 Commentator/Courier File photo- Redcliff's Dylan MacPherson
By Justin Seward
Medicine Hat Tigers defencemen Dylan MacPherson spent the off season working at the Riverview Golf Club in Redcliff and walked into the Canalta Centre last week looking leaner after training at Temple Fitness with the team's head strength coach Bruce Foerster.
"I hit the weights hard again," said MacPherson.
"It was a lot of heavy lifting days and only one to two cardio and agility days a week. I still feel good coming into camp and feel stronger then I did at the end of season."
During training camp, MacPherson felt the push from the up and coming talent for this season, which was of benefit to him to prepare himself for his second full WHL campaign.
"The competition was good," he said.
" I was getting pushed a little more now that I have to fill a bit of a bigger role on the back end and now that camp is starting to slim down and preseason is starting to amp up a little bit."
His focus coming into camp was sticking to the basic skills of moving his feet, making the smart passes and battling hard.
While he can be considered a veteran on the tabbies backend, he plans on teaching the younger core the ropes and prepare them so they can last a full 72-game slate.
Tigers head coach Shaun Clouston said MacPherson was a little bit of a late bloomer and joined the team late at 17 years old, but once he turned 18 he proved as last season went on that he can be in the line-up full time.
"One thing that I think helped him a lot last year, we did some on ice testing and he ended up being one of the top guys in a bunch of categories for skating," recalled Clouston.
"I think he knew he was a good skater but to have it shown to him really gave him some confidence and it seemed immediately after that he started rushing the puck a little bit and getting involved up ice in the offense."
Clouston added the club will need him after losing four of the seven defencemen from last season and will need him to step up and play in the top- 4 pairing will the club.