Redcliff curlers ready to challenge for gold at Travelers Cup this week
Posted on November 21, 2017 by 40 Mile Commentator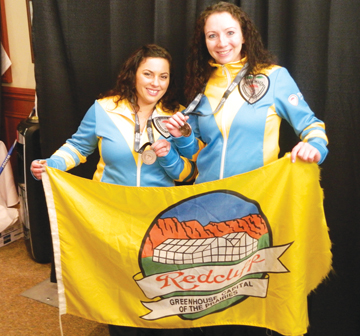 By Justin Seward
Commentator/Courier
For Redcliff curlers Samantha Davies and Avice DeKelver, their thought was that it was a once in a life time chance to represent their town and province at the Travelers Curling Club Championship after bringing home bronze in 2015 from Ottawa.
Now fast forward two years and Davies, 30, and DeKelver, 29, are getting ready to represent the Lethbridge Curling Club based Team Alberta at the same tournament in Kingston, Ont. which began Monday and running through until Saturday.
"I don't think I'll be as nervous because that element of unknown isn't there I guess because I know what to expect just for the amount of teams we're playing and the level of competition ," said DeKelver.
"That's how it'll be different and the excitement level will be the same. I would like to curl well and wherever that takes us, we'll see what happens."
The competitive atmosphere that surrounds the event does not take away from friendliness amongst the players on and off the ice.
"It's intense but you want to win," she said.
"It's such an amazing event because afterwards, the team you just played, there's always tables reserved in the lounge … and you chat about where you guys came from and what's curling like in your city and that kind of camaraderie. You don't necessarily experience that everywhere in competitive curling because sometimes people aren't very nice. But eventually everyone is cheering for everybody else."
The team of four which also includes second Kendra Nakagama and fourth Nanette Dupont qualified for the tournament by winning the southern playdowns in March before winning provincials in October in Edmonton.
However, the ruling after you win a provincial title, that a team is not allowed to qualify for an event the next year, which allows for more participation from other teams in the championship.
"It was nice to have a little bit of a break and come around this time again, we're ready to go ," she said.
"We curled everyday between January and March."
DeKelver said while she resides in Lethbridge , that being from Redcliff and representing Team Alberta is 'very humbling' and anytime she can put Redcliff on the map is a good thing.
She is excited to tour the Kingston Penitentiary and explore what university area has for restaurants.
Morris moved to Lethbridge a tear before her close friend d and it was at the beginning of last season that the team was talking about taking another shot at getting back to the championship.
"It's humbling and I'm just as excited and just as honoured to represent the province as last time," said Morris.
"To medal is extremely satisfying but with that being said we're looking to go all the way this time."
She remembers starting out curling wearing duct tape on her shoes because there were no sliders available and that gave her sense of never forgetting where she came from and taking those memories wherever you go.
The duo has not lost any support along the way from their hometown because between her and DeKelver, they receive text messages, phone calls, Facebook to wish them the best in competition.
"It's nice to know the community stands behind their hometown girls," said Morris.
"Avice is my everything. Her and I are a year a apart. I moved to Lethbridge and she followed a year after and thank goodness she did. I wouldn't want to be doing this experience with anybody else. It's awesome to know that no matter what's going on, I make a couple of bad throws or I miss a broom, I just have to turn and she's standing there and everything is going to be OK."
She is looking forward to exploring Kingston and take as much of it in as she can.
Team Alberta opened up the tournament against Team Northwest Territories on Monday morning and in the afternoon draw played Nunavut (results unavailable as of press time). All the games can be streamed on http://www.curling.ca.