Forettes well represented at Shooting Stars Showcase
Posted on April 16, 2019 by 40 Mile Commentator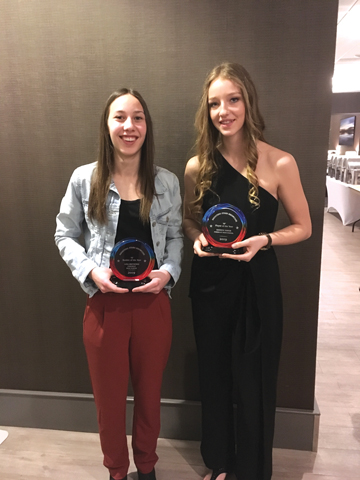 Photo submitted by Laura Rumpel Left: Lina Britschgi receiving 1A Rookie of the Year and Kamryn Yancie taking home Player of the Year.
A trio of Foremost School Forettes senior girls basketball players and a Senator Gershaw Gator ended off their seasons with a trip to the annual Shooting Stars Showcase at SAIT in Calgary near the end of last month.
The Forettes were represented by third-time attendee Kamryn Yancie, Jessica Butterwick, Lina Britschgi, Linsey and Morgan Brower and the Gators' sent Janine Jonker.
The annual showcase allows players who are chosen through invites from high school league coaches to compete in a 3-on-3 tournament in front of scouts with fellow players from across the province.
For Yancie, it was special trip because she was recognized for 1A Player of the Year at the event.
"I was pretty surprised because at the beginning of the year, I missed a little bit of it with a sprained ankle. I didn't expect that going there," said Yancie.
The award only inspired her to try harder to get that nomination again next year.
Britschgi is a Grade 10 player at Foremost School and took home the 1A Rookie of the Year honours and initially wasn't expecting to go.
"I got a text from my coach (Laura Rumpel) three days before and she mentioned that I was nominated for this award," said Britschgi.
"It was really nice (to receive the award). I try my hardest at games and you don't notice much until you get nominated for awards like this.
"It was a great experience. I got to meet a lot of new people and play with a lot of great players across Alberta."
Coach Rumpel made the trek up to Calgary to take in the games not only with the award winning players, but the whole contingent meant a lot to basketball program.
"They represent our school very well by going up there," she said.
"Morgan and her sister (Linsey), their extreme dedication, hustle and desire to play basketball and it shows in how hard they play. Kamryn Yancie is just a well rounded natural athlete. She's a good shooter and passer. She does all aspects of the game very well. Lina Britschgi is a talented athlete that plays extremely good defence. That's her little pride and joy
"Jessica is a point guard that sees the floor very well and likes to learn about the game as much as they can."
The showcase provided them to extra experiences and play against other top notch girl players in the province, she added.