Mickey ready for Paralympic stage
Posted on August 17, 2021 by 40 Mile Commentator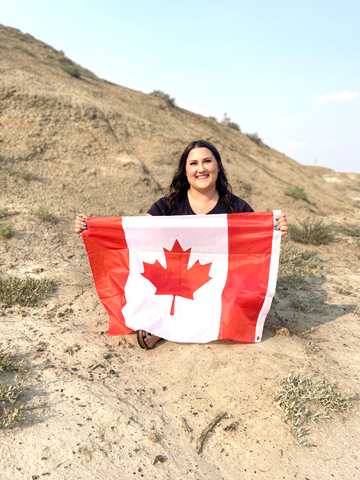 Commentator/Courier Photo Submitted by Sarah Mickey Sarah Mickey will be representing Canada at the Paralympic games for the first time later this month in Tokyo.
By Justin Seward
Commentator/Courier
Redcliff's Sarah Mickey will don the Canadian colours in Tokyo at the Summer Paralympic Games that open on Aug. 24.
The 23-year-old was named to Team Canada last month and will be competing in the F55 discus throw on Aug. 27.
"I got a call from our head coach (Carla Nicholls) a couple of weeks ago now and then it was made official by the Canadian Paralympics Committee," said Mickey, on how she found out she was named to the team.
"It was really exciting for sure. I'm just super pumped and honoured to have the opportunity to go and compete for Canada."
Mickey has been throwing discus since she was 17 and has been looking forward to the Paralympic opportunity since then.
"So, I've been throwing and hoping for this opportunity for the last four years," she said.
Her goal is to reach the podium.
"But personally, I just want to do the best that I can," said Mickey.
"I have been training well and I know that I am prepared to go out there and do it."
She thinks it will be a different experience without having any fans present.
"But I've definitely been watching (the recent Summer Olympic Games) and I think it'll be good just for the chance to compete and go out there and do it," she said.
She is no stranger to the high-performance stage as she competed at the 2019 Para Pan American Games in Peru and the Senior Worlds.
"I think it's good just to have that competition knowledge behind me— I know what to expect," said Mickey.
"I know most of the girls now in my category too."
Mickey is proud to represent Redcliff.
"It's really awesome to have the support of such a small town," she said.
"I'm just lucky enough to have grown up there and it's definitely home to me."
She departed for Japan on Saturday with teammate Jennifer Brown and her Nicholls for a training camp prior to competition.
It was  at  the age of 15 that Mickey contracted Lyme Disease and diagnosed Transverse Myelitis, causing paralyzing from the waist down and a year later she started to participate in para sports.