Summer Games coordinator excited at challenge
Posted on May 14, 2022 by Ryan Dahlman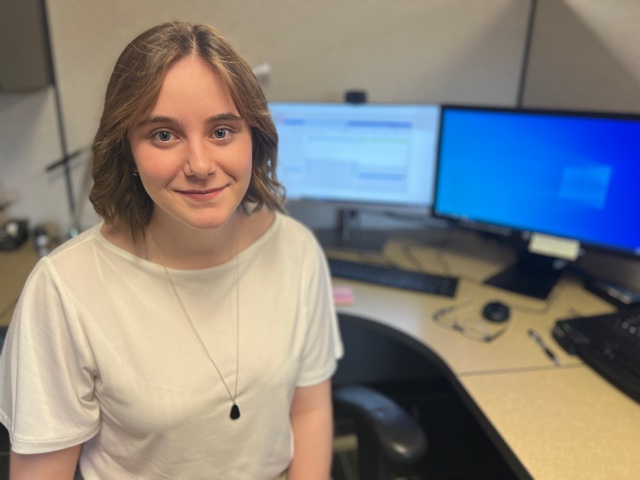 By Anna Smith
Commentator/Courier
Gone from the swimming pool to the horseshoe pit, Cypress County's summer games coordinator is on the scene and ready to keep the spirit of the beloved event alive.
Mackenzie Walker is a Medicine Hat College student who's just finished her first year of study to become a nurse. She will be going into her second year in the fall, towards a Bachelor's Degree of Nursing.
"I've also swam for six years," said Walker. "Right now I'm not swimming competitively, but I'm training with AMAC Swim Club. School has been my life for the last while, though."
Walker's lived in Medicine Hat since 2014, and is looking forward to applying her skills learned poolside to different events.
"I chose to apply because I have coached with AMAC Swim Club, and taught swimming lessons with the city of Medicine Hat.  I love interacting with children, and being the person they look up to for helping things," said Walker.  "And I just thought being the Summer Games coordinator would give me a different aspect of the same sort of thing. I get to interact with more than just swimmers will get to interact with a bunch of people that play other sports. And then it gives me the opportunity to learn about other sports as well."
Walker has currently only been on board with Cypress for about a week, but said that the experience has already been overwhelmingly positive.
"We're hoping to keep the Summer Games alive this year since they haven't had them for the last two years. And so we're hosting three events. We know what two of them are for sure," said Walker, who added that they would likely be deciding on the third event soon.
According to the Southern Alberta Recreation Association "the 51st Annual Southern Alberta Summer Games were scheduled to take place in the Town of Raymond from July 6-9, however with support from the Town of Raymond and the Southern Alberta Recreation Association, the Hosting Committee determined it was best to postpone these Games until a later date. 
"We are disappointed that we won't be able to host a full Games this year but are excited we are still hosting some events," stated  Hugh Simpson, Community Services Director for the Town of Raymond in APril. "We appreciate the support from SARA and the other regional partners and look forward to hosting a full SASG in the near future." 
"We thank Raymond for stepping up and trying to host this year," added Adam Grose, Chair of the Southern Alberta Recreation Association. "We appreciate all the time and planning that went into the 2022 and fully support their decision to postpone a full SASG until a later date with the ongoing pandemic." 
The 2022 Summer season will not be left without Regional Events though, as each of the thirteen (13) regions across Southern Alberta are hosting events! Activities include sporting, demonstration, and cultural events, such as Pickleball, Disc Golf, Swimming, Photography and so much more. A list of these events can be found on our website and calendar at https://www.southernalbertasummergames.ca/. 
Walker notes there might be some challenges in getting excitement for the games given the limited number of events in Cypress County, but Walker is eager to rise to the challenge, and feels like her time as a swimming coach will help her as she develops further skills in the coming month.
"When I was coaching, I learned how to communicate with not only my athletes, but with their parents as well. And I think that's going to be a huge part of this position," said Walker. I think it might be a little bit harder to get people excited for the games, but I also think it gives people the opportunity to try something new that they haven't tried before."