Foremost cowboy sits first in the Bull Riders Canada standings
Posted on September 7, 2022 by Ryan Dahlman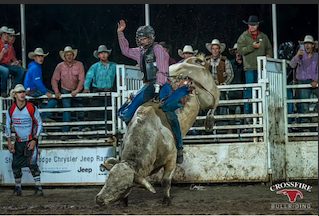 William Barrows atop the bull "Frose Up," his first 90 point ride. This ride, in Grunthal, Manitoba, was the one to move Barrows to the #1 spot in the BRC. Photo provided by William Barrows.
By Anna Smith
Commentator/Courier
21 year old William Barrows is making everyone back home proud as he impressively sits atop Bull Riders Canada standings and as well iks this year's top rookie. 
Barrows is Foremost born and raised, having attended Foremost School and graduating only a few short years ago in 2019. Barrows said he's always been interested in bull riding, even from an early age.
"Ever since I was a little kid, I always kind of wanted to ride and then when I was old enough, I went to school, got on some cows and started out in cow riding, and then started riding junior bulls and moved up into the open bulls, and my cousins, and my uncle were bullriders, too. So that's kind of how I got into it," said Barrows.
Barrows works on the family farm, and he also has a love for snowboarding and hockey when winter rolls around, or boating in the summer, but his true passion remains bullriding, enough so that even injury can't keep him down.
"I was in a wreck last July and I took nine months off before I got riding again," said Barrows. "I was cleared two months before I started riding, and I took that two months and went to the gym to work out in practice, before I even got on a bull and then when the time was right, I got started riding again and just everything worked out."
Barrows is in a good spot for the year, having ridden over 50% of the bulls he'll need for the season and only nine events left, and feels confident in how things are going.
"As long as I keep working at it and doing what I'm doing, I think I have a decent shot," said Barrows. He credits how close-knit and supportive Foremost is for much of his success, as well as his brother, who took up bullfighting for him. "I think it's a big part of the mental game. And confidence. And if you have confidence and your riding is good and you have fun, that's half the game."
"We help out each other and like, I like to help out and give back to them too. And they like to help me out too," said Barrows. "I'm really lucky."