Park Manager at 40 Mile Park resigns; County takes over 
Posted on July 13, 2022 by 40 Mile Commentator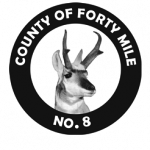 By Samantha Johnson
Commentator/Courier
Effective June 30, Marisa Sekura has resigned as Park Manager at 40 Mile Park and, at present, the position has not been refilled. Keith Bodin, County Administrator, said, "from time to time employees move on to take a new career path, we wish Marissa all the best in her endeavor."
The County of 40-Mile Agricultural Department has taken over duties in the park.
"The park will be overseen by the Agricultural department, operationally the park will continue on as normal as we have staff in place to carry out the day today functions. With the recent rain the park has definitely gotten greener, and staff have been busy clearing out dead fall in the tree lines, weed whipping, etc. and completing some dust control on some sections of main roads within the park," said Bodin.
New one-way signs have been installed such that boat traffic now flows in a loop. This should help prevent the cutting in line for launching boats. No parking signs have also been placed in the grassy area. All lot owners are allocated two parking spots on their own property for their use.
The concession doesn't have an operational kitchen this season due to the hood fan not being up to standards. Stacy Hammel, concession operator, said, "when the health inspector came the hood fan did not turn on so I was told I could only use the microwave and a hot dog roller for food, and was given a 'convenience store' designation on my food handling permit."
Hammel explained the concession is selling hot dogs with onion, sauerkraut, banana peppers, chili and cheese as additional topping choices. They also carry fresh vegetables, such as cherry tomatoes, mini cucumbers, mini bell peppers, and long English cucumbers from Stigter's Greenhouse in Redcliff. Lucky's Grit Dip in dill, buffalo or onion flavours is also available in store.
"Other than that, it's your typical campground store," stated Hammel. "Ice cream, ice, firewood, drinks, and snack food. It's been working well, and the County and Park Board have been great to work with."