Southern Alberta Grazing School for Women a worthwhile experience
Posted on July 6, 2022 by Ryan Dahlman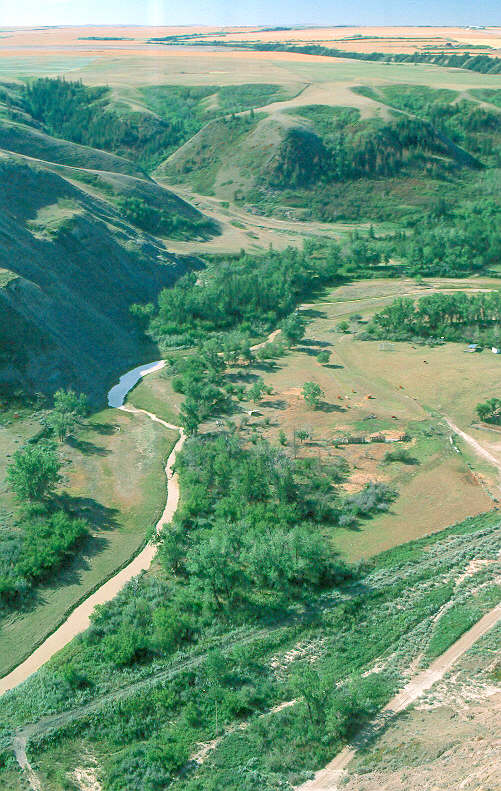 By Samantha Johnson
Commentator/Courier
Now in its 19th year, the Southern Alberta Grazing School for Women is running July 13 and 14 in Oyen. 
There are still spots available for women who are interested, but the deadline to register is today, July 5th. 
The past two years, the schools were done online as they couldn't meet in person.  "We are so excited to get back together to see the women who are regulars and come year after year but also to meet a bunch of new people," said Norine Ambrose, Executive Director of Cows and Fish (also known as they Alberta Riparian Habitat Management Society).
Classroom sessions occur in the morning with hands-on outdoor learning in the afternoons. This year, in addition to riparian health, range health assessment and plant identification in the field, speakers from veterinarian services will be discussing considerations for herd health. Learning about soils and how to make them healthier and pasture management will also be included. 
"A core part of our mandate is to profile local ranching women so they can talk about what they do. Each day we have a ranching lady to come in to share her perspectives and learning," said Ambrose. 
The maximum number of participants at the school is generally about 40 registered participants, plus all the speakers and organizing committee. The organizers wish to maintain the hands-on ability, particularly in the field sessions. "It's difficult to do close together hands on work when there are too many participants," explained Ambrose. "We want to keep that intimate feel and have everyone be able to see and touch and get involved as opposed to a big stand-up tour where you are a mile back and can't see anything." 
The Original Grazing School for Women is in Central Alberta and started a year earlier than the Southern School. The women only schools were created because the organizers recognized a real need in agricultural and conservation extension, which is generally dominated by men. "Most of the time when attending field days or workshops for agricultural producers there were some women, but it is mostly men," said Ambrose. "We also noticed there is a different style of questioning and approach between women and men." As a result, they decided to try something different and create something that would get women to attend. 
While the content of the school itself is relevant to both men and women, fun activities are also included that are catered specifically to women, such as crafts that are trendy and fun. "This year we are doing a fashion show with a lady who is in the rural area and has a local business. She is going to talk about an entrepreneurship and her business because many agricultural woman are also doing other things," said Ambrose. 
The school also creates a networking opportunity for women. "We felt women tended not to come to agricultural extension events as much as men," stated Ambrose. One possibility, was women didn't feel comfortable at those events and it was hoped the Grazing Schools would provide, along with learning, a space women would enjoy being in. Past evaluations have shown that every single person who takes the school tells friends and family about what they learned. Thus, others who don't enroll at the school "are also benefitting from some of the learning, so we know it is relevant and applicable," said Ambrose. 
The organizers try to get all speakers at the school to be women, and while some are men, many are women, helping to highlight the role of women in agriculture and grazing. By chance, most of the organizing committee is also women. 
There are still about 10 spaces open for this years Southern School, with all remaining spots for producers. There was a bit of a slower start getting information out this year, thus leaving spaces open that the organizers would love to fill. "We split the number of tickets between those who are primarily agricultural producers and those that aren't, such as a professional agrologist or a woman in conservation. We do want (the school) to be dominated by agricultural producers," said Ambrose.
It is a great deal at only $110, which includes a plant identification book, along with lots of other course material. In addition to the school and other activities, the participants get two breakfasts, two lunches and a supper. "It is a really good investment for anyone managing land and we have found the ladies who take it use it at home. We have lots of sponsors who donate door prizes, and our goal is everyone goes home with a door prize," said Ambrose. 
To register, go to https://www.foothillsforage.com/soabgrazingschool, there is also a Facebook page @GrazingSchools4Women. More information about Cows and Fish can be found on their website cowsandfish.org.