Gala celebrates 40 years of local library
Posted on November 10, 2015 by 40 Mile Commentator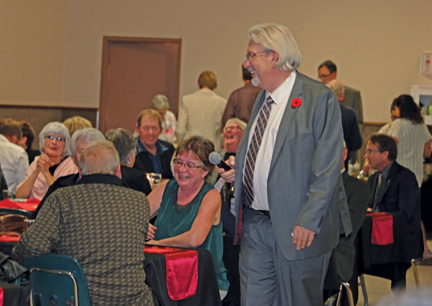 Bow Island mayor, Gordon Reynolds was the MC for the event.
By Jamie Rieger
Forty years ago, municipal leaders in Bow Island saw the need for a community library and plans were immediately put in place to have a facility where people could not only sign out books, but also hold meetings and other gatherings. Over the years, the Bow Island Municipal Library (now the Susan Andersen Library) has become a central meeting point for many in the community.
On Friday evening, a gala event was held at the Multiplex to celebrate the library's 40th anniversary and to raise money for an expansion project.
Mayor Gordon Reynolds was emcee for the evening and gave a brief history of the library, which he said was first part of the Town's strategic plan in 1974.
"One of the things identified in the strategic plan was the need for a library and soon, council passed a bylaw," said Reynolds, adding that the original cost of the building plans and extension was $275,000.
"The extra space allowed for more activities and programs and quite often, meetings were held there. Originally, it was operated by volunteers and there was not a lot of government funding back then."
In 1981, Redcliff started pushing for a regional library system, and Andersen, along with the Bow Island Municipal Library, joined in the effort and in 1988, an agreement was signed.
Today, there are 13 communities involved in the Shortgrass Library System, that also has partnerships with Prairie Rose School Division, Medicine Hat School Division, and the Medicine Hat College. The regional library system gives library users access to over 400,000 items.
"We could never build a library big enough," said Reynolds.
The previous town council chamber was turned over to the library and developed into a room for children and it has become a hub for young people, with lots of reading material and activities.
"The staff always tried to make the library a welcoming place," he said.
Board chair, Carla Robertson said the money raised from the Gala evening will go towards building a sunroom-type room addition that will allow people to enjoy the view of the outdoors, while enjoying their reading or other library activity.
"This is something Sue always envisioned and it will be something that Bow Island and the whole county will benefit from," said Robertson.
Cypress-Medicine Hat MLA Drew Barnes attended the milestone event and said that libraries are important parts of communities, and are successful because of the people who dedicate their time and effort to them.
"Libraries exemplify what Alberta was built on; volunteers and people building strong communities and libraries like this one that through cooperation and hard work, has lasted through generations," said Barnes.