Farmers united in opposition to Bill 6
Posted on December 8, 2015 by Tim Kalinowski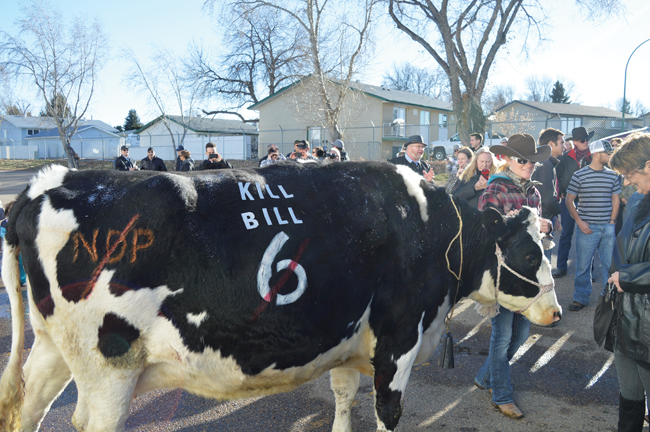 Photo by Tim Kalinowski Louise Niwa of Acadia Valley was one of hundreds who came out to protest Bill 6 in Medicine Hat on Dec. 4.
On Friday, Dec. 4 southeast Alberta farmers and ranchers gave NDP Health Minister Sarah Hoffman and Innovation and Advanced Education Minister Lori Sigurdson an earful at the Medicine Hat forum on Bill 6 or the "The Enhanced Protection for Farm and Ranch Workers Act." The forum took place at 1 p.m. in the Cypress Centre Pavilion. About 900 farmers, ranchers and supporters of the local farm community came out to express their discontent to the ministers about Bill 6 both within the forum and outside prior to at a rally sponsored by Southeast Alberta Agriculture Advocate (SAAA), a group opposed to Bill 6 in its current form because of what it calls "the undemocratic process by which this bill is being implemented."
Jennifer Shoker of Seven Persons was one of those who came out to the rally carrying a sign which said "Stop Bill 6."
Shoker grew visibly upset when she explained why she came out to protest the bill.
"I think it is more than just then them picking on the farmers and ranchers now. It's our whole democratic right. They are trying to tell us what we can and cannot do. I was raised on a farm. There is nothing that can stop accidents. There is no government agency that's going to do that. I have worked on big feed lots. Common sense and education is where it is. This bill is going too far."
Shoker came out to oppose a bill which she felt was intended to change her much-loved way of life. Others came out with a more explicitly political agenda.
"I'm not very optimistic something will come out of this (in Edmonton)," said Al Strom from Wild Steer Butte southeast of Bow Island. "I am against Bill 6 because it oversteps the regulatory mandate they (the NDP) have got. This government does not have a mandate from the people to do this kind of thing. They got elected with only 25 per cent of eligible voters and they are trying to ram stuff through and steamroller us, and we're pushing back. And this is just the start."
MLA Drew Barnes told protesters the Wildrose intends to fight tooth and claw for more clarity from the government about this bill. That his party has clearly heard that farmers either want this bill sent to committee or killed.
"What this government is asking for is a blank cheque," Barnes told a crowd chanting 'Kill Bill 6' at the SAAA rally. "A blank cheque for Workers' Compensation and Occupational Health and Safety and labour standards on our family farms, on our commercial agriculture, on our colonies, without the opportunity for us, the experts on how important safety is and what safety is all about, to be engaged (in the process). And this is why we are fighting it."
Within the Pavilion Eric Musekamp, president of the Farmworkers Union of Alberta and a long time advocate for greater farm safety legislation in the province, said he felt the NDP had rolled out Bill 6 "wrong," and now had to backpedal hard to dispel the misinformation and reaction they had caused by doing so.
"As long as the Wildrose doesn't keep stirring things up for their own political gain, we might be able to simmer down and get some progress," said Musekamp "Farm workers have a constitutional right to be included in all that legislation. Safety legislation protects farm workers and their employers from being hurt, poisoned or killed at work. Workers' Compensation protects farm workers and their employers from financial devastation. So there is tremendous benefit to it."
Then it was time for Ministers Hoffman and Sigurdson to take to the podium to chants of "Kill Bill 6!" from a riled up, but mostly respectful crowd. Minister Sigurdson began by apologizing for the mistakes the NDP had made in putting out incomplete information that had led to widespread misunderstanding of Bill 6's intent. What followed was three hours of strident questions from audience members about why the NDP couldn't delay implementation of Bill 6 until they had consulted and had a complete bill to present within the legislature, what constituted a family versus a corporate farm, the limits on the rights and power Occupational Health and Safety would have after the Alberta farm exemption was removed by the current legislation, the NDP's agenda in greater unionization of farms and the guarantees the new bill would spell out to protect the agricultural way of life.
The Ministers said OHS would only have the right to go onto a farm in the event of a farmwork related death, in response to a safety complaint, or over a particular farm's record of poor safety practices. They said any farm employee, regardless of family status, who receives a T4 would be considered a paid employee and would be subject to WCB and OHS regulations. Recreation, unpaid chore work and 4-H would not come under the auspices of Bill 6. Unionization of farm workers, if they desire it, was a constitutional right according to the Supreme Court of Canada, and the NDP would comply with that ruling. Why they were rushing the legislation through, with amendments to come later, was because the NDP wanted workers currently unprotected to get that protection immediately without having to wait for the consultation process with farm groups which will follow  over the next three months to conclude.
These were the answers repeated over and over again by the Ministers in varying words but with the same intent despite the attempts of questioners within the audience to push for more specific answers. Sometimes frustrations boiled over in the meeting with individuals shouting "Stay off our farms!" or "Answer the question!" However, for the most part, the protesters showed admirable restraint and pushed the Ministers hard throughout the meeting to address their concerns more directly.
It is yet to be seen if anything will come out of these public consultations on the legislative front back in Edmonton, but it is undeniable that local farmers and ranchers made their voices forcefully heard last Friday.