'Greenie the Wheat King' comes to life in children's book
Posted on June 13, 2017 by 40 Mile Commentator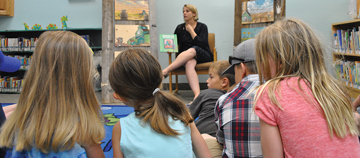 Photo by Jamie Rieger - The young people who attended Jen Stables' book signing of 'Greenie the Wheat King' enjoyed her tell the story on Saturday morning.
By Jamie Rieger
It was her childhood coming to life in poem and paintings when Jennifer (Hudec) Stables began working on "Greenie the Wheat King", a tribute to her years growing up in Burdett, and most specifically to Greenie, the affectionate name she had given to the community's largest grain elevator.
On Saturday morning, Stables held a book signing and art exhibit at the Susan Andersen Library and gave emotional welcome to the many people who came out to see her.
"Every time I come here, it's like I have come home, even after 21 years away," she said, through tears. "You are my family."
Stables recalled her childhood years, growing up in Burdett, which at the time, had a series of grain elevators. One of these, a large green elevator, she called Greenie, became the inspiration for her story, "Greenie the Wheat King".
"This book is my heart and is much more to me than just a story. It is so special," said Stables. "The memories I have are crystal clear and will carry them with me through life. Dad would tell bedtime stories and he really brought Greenie to life."
Three years ago, she penned the poem that would become the Greenie the Wheat King story.
"I realized that it need to be specific to Burdett, so I included that place by the river that was so special to me and I really reflected about what I missed most, like the stars, the howling of the coyotes, the chirping of the crickets, the sound of the train," she said.
Stables said she has always been an artist, but had never taken any formal art classes growing up in the Bow Island area.
"I just practiced it while growing up," she said.
After graduating from Senator Gershaw School in 1996, she went off to the University of Calgary to obtain her Bachelor of Fine Arts degree, where she specialized in painting. From there, she taught children's art classes in Montreal and attended Concordia University. She then returned to the University of Calgary, enrolling in the Masters of Teaching program and went on to teach for the Calgary Board of Education.
"I started thinking, 'what about my art? What if…? If I had one year to put everything into it, I wouldn't watch TV, I would paint," said Stables of her decision to get the project complete.
The final result was Greenie and people lined up for more than an hour on Saturday to purchase signed copies of the book and prints of her paintings.
The art exhibit, displayed throughout the library, featured some of Stable's paintings, as well as some created by students at the library's after-school program last week.