Scratch: Younger voice needed on Foremost council
Posted on September 26, 2017 by 40 Mile Commentator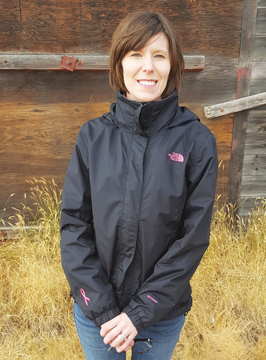 Submitted photo - Rena Scratch is running for Foremost council to bring a younger voice to the table.
By Jamie Rieger
Rena Scratch is hoping to bring an outside perspective to Foremost council is she is elected. The Foremost beekeeeper, grew up in Westlock, but has lived in Foremost with her family for the past five years.
Scratch also believes a younger voice is needed on council.
"I think the community needs a younger perspective on council. My husband is from here, grew up on the family farm, and we are raising our young family here," said Scratch, adding that her previous experience working in the oil and gas industry and dealing with people from all walks of life would be an asset at the council table, as would her experiences living in other small communities.
"Growing up someplace other than here allows me to bring a different perspective and different ideas," said Scratch.
Scratch said people in the village have told her some of their concerns and she plans to bring up the issues at council.
"Residents have told me the upkeep falls behind on things like streetlights," said Scratch, adding that she would like to see maintenance and repair work being kept up with and would like to see more businesses come to town.
"I would like to see more businesses come to town and we need to capitalize on what we already have," she said.