Local opposition to wind farm near Bow Island Airport
Posted on January 23, 2018 by 40 Mile Commentator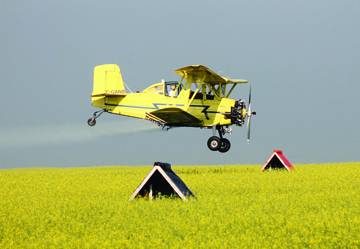 By Justin Seward
Commentator/Courier
The Forty Mile Wind Farm is a proposed project near the Bow Island Airport that was brought forth by Renewable Energy Sources (RES) for public consultation in summer 2016, but for one local agriculture spray flyer, its proximity to the airport raises concerns for pilots.
Nathan Hofmann is the owner of Top Crop Applicators Inc.
He calls Bow Island Airport his home base, with three planes that are cropdusters in the agriculture industry.
He has engaged in numerous discussions with RES, the Town of Bow Island, County of Forty Mile and Alberta Utilities Commission to give the industry a voice on the project to educate those parties on not getting too close to the airport.
However, it was while he was talking with RES that he told them he wanted them to stay 10 statue miles away from the airport but RES's argument was that affects their entire project.
Hofmann responded, saying "it doesn't but it affects some of it," and that there are legal and regulatory reason as to why they can't be within six statue miles.
"My most recent conversation with a written response to the County of Forty Mile and the Town of Bow Island is that the six-mile radius, that's the clearance circle, if they would respect that (it) would be a huge step in the right direction," said Hofmann.
"I've been trying to make them see that there is a limit here and they're too close right now. For the way the type of airplanes that run out of here, they need more space.
"I've written submissions to the County of Forty Mile hearings and engaged with the Town of Bow Island to encourage them to have a look at this project specifically and how it could affect the future of the Bow Island Airport."
According to Hofmann, the future could mean no further investment at the airport because it has a good tax base and can maintain itself, but with turbines coming in it will become less attractive for aviation related companies.
"When the crop protection season is going, the airplanes are coming and going every half an hour or 45 minutes if the conditions are right," said Hofmann.
"There's a huge effect, because the air space is uncontrolled and the pilots have to separate themselves by communication over radio and visual separation.
"The pilots have to do it themselves. We don't have a flight service station like you have in Medicine Hat."
Hofmann says he can operate his plane in low visibility once he's at the height of the clouds off the ground.
If wind turbines were to be built there, there are concerns with taking off because the pilot will not be able to see those turbines, which Hofmann says will reduce the number of operational flight days.
"That's a big problem for industry because I need to be able to serve," he said.
"My business relies on serving and if I can't get out there as effectively and serve, then it's not as attractive for my clients to pick up the phone and call the aircraft."
RES project manager Lucas Reindler spoke to the Commentator about the adjustments that had to be made in close proximity to the airport.
"We are trying to get the project approved as proposed for these different commercial off takes," said Reindler.
"We are aware that there are concerns voiced about the Bow Island Airport, the Town of Bow Island voiced concerns, some stakeholders and local aerial sprayers.
"We're working on that with the stakeholders and other industry experts who know these kind of farming issues."
An amendment that RES made with the wind turbines is increasing the distance from the airport to the closest turbine was from three to four kilometers and removed the closest turbine to the airport,
"We feel we've done everything in our best effort to make sure there isn't a negative impact at the airport," said Reindler.
RES believes there are solutions for the project to move forward, and enable the market and the farmers to use aerial spraying techniques.
The company acknowledges that wind towers and flying aircrafts "are kind of oil and water and something that doesn't go well together," said Reindler.
"There is many examples throughout the province, even in the Taber area, where the Taber Wind Farm has been operational for over 10 years and those farmers in and around there have their crops sprayed as well."
The final project lay out will be compromised of 115 total wind turbines with each structure being 101. 5 metre tall with blades spanning 66 metres long and tentatively start construction this summer if approved.