Seven Persons' Traxel family take home farm family award
Posted on July 17, 2018 by 40 Mile Commentator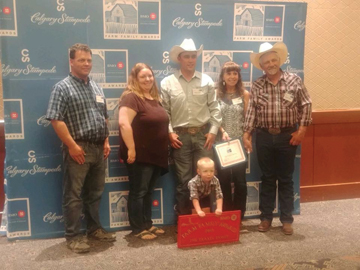 By Justin Seward
Commentator/Courier
Keith and Kody Traxel's K Lazy T Angus farm near Seven Persons was the Cypress County recipient of the 2018 Calgary Stampede BMO Farm Family Award at a banquet on July 9 in Calgary.
The award is given out annually to outstanding farming families in each of southern Alberta's municipal districts for their contribution and commitment to agriculture and their communities. The program was created to value those farm families who understand the value of the family farmer to society, as well as celebrate families who take an innovative approach to growing business, demonstrate a commitment to traditional western values and maintain a standard of sustainability.
"It's pretty amazing that's forsure," said Kody.
"I think the cool thing for us is how we work as a team being a family farm. It's pretty exciting. We do a lot outside-of the-box when it comes to promoting stuff among Alberta Beef producers,(I am) a delegate for our zone. With that, I'm always talking to a consumer and create a connection to provide a positive feedback for what we're producing for our product.
"We're getting a bad image in places. It's kind of my passion to make sure that's not spread around wrong."
A recent community event held at their acreage was the 2017 Angus Club Field Day and were able to get 100 more people out to the event than previous years and "got the event out of the water (and) they were pretty excited about it," said Kody.
The agriculture topics covered at the event included herd health management, forage efficiency and nutrition,feeding efficiency.
The father-son duo pride themselves on raising top quality angus cattle . The farm has been in operation on grandfather ,Adam  Traxel's, homestead since 1957. Keith has been an active breeder of Angus-influenced cattle since 1984 . In 2006, the ranch gained its first registered female from Ebon Hill Angus.
The operation currently has 90 purebred cattle on display, while the hope is to have 150 to 200 head in the next five-to- 10 years.
"We just enjoy what we do," said Kody.
"There's really no better lifestyle. We work hard at growing our crops and it's pretty rewarding to see it all happen and see calves be born in the winter and keep them a live and healthy so they're ready to sell."
It was the Traxels first time at the Calgary Stampede. They had family and county friends accompany them on the trip and was "very rewarding to know that BMO and Calgary Stampede and the county were recognizing some of the folks that live and breathe agriculture," he said.
The family will also be awarded the Cypress County Farm Family award next week at the Medicine Hat Exhibition and Stampede.