Canadian soldier chases Olympic dream
Posted on August 14, 2018 by 40 Mile Commentator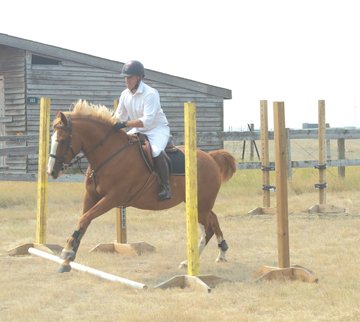 Phil Brunelle will be hard at training for the next summer Olympics in Japan.
Justin Seward
Commentator/Courier
It's a feat that has not been done for around100 years,but for CFB Suffield Cpl. Phil Brunelle, it's a task he is up for in trying to qualify as the next soldier on the show jumping team at the 2020 Olympic Summer Games in Tokyo.
Show jumping is a riding equestrian event that involves going through a course jumping over a fence mechanism with a horse which leads to a qualification round, then a jump off before reaching the finals.
Eventing is the other event and also known as a three-day horse trial, where a single horse and rider compete against combination over a three-day period in dressage, cross country and show jumping.
Brunelle walked into the sport naturally at a young age as both of his parents were horse trainers.
"I think I was put on a horse before I was walking which was kind of dangerous being from my mom," said Brunelle.
"I've been in and around the horse business all my life. I would say I've been involved in professional riding (for) 15 years now."
He competes on a professional circuit, which includes jumping at Calgary's Spruce Meadows, where riders compete and have to have two clear rounds at the national level before the international level can be reached and ultimately the Olympics.
"It's a lot of training," he said of the Olympic path.
"You need to keep in mind we need to train at least three hours a day, seven days a week with the horses. That's the reason we own 14 horses. You've got to changes a lot of horses. You can't use the same horse all the time.
"As for us, a lot of training like that, it's really important. A lot of hours in the gym too and a lot of support by the funding from the base. If everything goes good and the plans working and the horses are good and I'm good and build the partnership between me and the horse, that's pretty much it."
Brunelle has kept tabs on the Olympics and the games have changed a lot and "show jumpers are more complicated now than 20 to 30 years ago, (and) not the same sport at all" he said.
He added now the sport is taking the precautions to improving the sports safety with the appreciation from the riders.
"The Olympics in 2020, it's going to be my high feature career point," said the Quebec native.
Another goal of his after the Olympic summer games will be the Nations Cup, the highest point that can be reached in the sport.