Redcliff councillor eager to do his part to save the town's golf club
Posted on October 30, 2018 by 40 Mile Commentator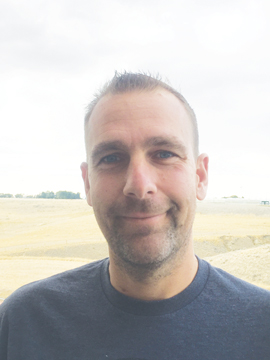 Photo by Justin Seward - Redcliff businessman Chris Czember wants to work at attracting new industry, improve economy for Redcliff.
Justin Seward
Alberta Newspaper Group
Redcliff town councillor and local golf enthusiast Chris Czember believes there will be a conscious effort put forward to save the Riverview Golf Course.
Golf course members voted Thursday evening to start a committee to bring a new plan forward in hopes of seeing people tee up next spring.
"If it means more of my time, I'd be totally willing to try in any way to put in the effort," said Czember, who was the first on board with the committee at the meeting's end.
"This committee is very impromptu. It's not official by any means. When I sit on it and we talk about things, I'm not actually representing the town. I still will be looking at it from a councillor point of view.
"For the community, I want the golf course to be here."
Next year is the question mark according to Czember because if there is a solution to the problem with golf course, then it will be business as usual but if there is no settlement, then there is the risk for no golfing in the town.
"I do believe we will get our ducks in a row for the 2020 season," he said.
"However there is going to be costs conquered to keep the course in decent enough shape in 2019. It's ideal to have the running next year in one way or another."
With the golf course being volunteer ran and people showing good ambition but it comes to waking up for the early shift there will be bumps in the road.
"I do know the course has a lot of golf lovers there," he said.
"Hopefully they can put towards a very good, reliable volunteer base if they want to go that route."
Although he was all for having labour costs supplemented by volunteers, the golf course should have thought of that 10 years ago when the problem began, he added.
"I absolutely think this is the last final ditch effort," he said. "Hopefully we can put egos aside and hash something out. But at the end of the day if we don't get something hashed out, I'll know that we tried and explored every avenue. I'll hold my head high knowing that."
Czember, along with acting golf course president Dean Schmaltz and Cody Booker are hoping to hash out details on possibly Sunday or Monday to see who they can bring on the board.