Seed cleaning plant has a business plan
Posted on November 13, 2018 by 40 Mile Commentator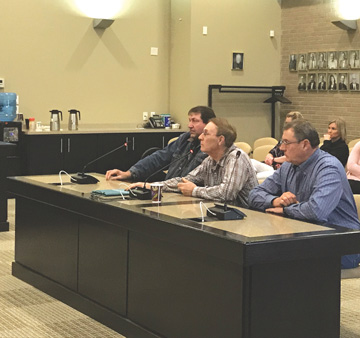 Dwight Mastel (l-r), Garry Lentz and Brent Beck spoke to Cypress County about the new seed cleaning plant's business plan on Nov. 6.
By Justin Seward
Commentator/Courier
Garry Lentz, Brent Beck and Dwight Mastel of the 11-22 Seed Cleaning Plant Co-op came before Cypress County council to discuss their business plan on Nov. 6.
The 11-22 Seed Cleaning Plant has been operating at their Medicine Hat Bridge Street location for over 50 years. But in the spring they got land use reclassification approval to build a new state-of-the-art facility on Highway 41A at Range Road 52 at a cost of $10.6 million.
If the conditions were good then 400 bushels could be cleaned per hour but often would be tied up because there wasn't enough storage capacity to keep operating until a bin of clean grain was hauled out at its current location.
Parts such as wind and screen cleaners are still functioning but replacements are now becoming limited due to the manufacturer shutting down. The original seed treater did an efficient job of applying oil based chemicals but the new chemicals are water based and did not have enough volume to catch up.
The board believed they are losing about 250,000 bushels per year because of being at its full capacity.
Services are limited with only seed cleaning and separation, lab drop off service and a public scale.
"In initial discussions with farmers up in my area, a lot of those guys are using mobiles only because it's hard to get into the Medicine Hat plant," said Beck.
"The limited storage capacity that we have, they get tied up with one load for a day or so because somebody else ahead of them could not make it back into pick up their load. They're stuck and it's a real waste of time."
The new plant would be modeled after the $9 million Strathmore plant that was built three years ago, which would have two and a half times the capacity compared to the old one with the new state of the art equipment functioning at a faster rate.
It will also have customer owned condo storage.
"The feedback I've gotten with this type of service; they will come," said Beck.
"The old plant was very labour intensive. The new plant is fully automated. We only need two people and it's going to be very easy to run."
Services at the new location will include seed treating, large outdoor public scale, protein and moisture testing, agronomy services, retail sales of seed, livestock feeds and pet feeds to name a few.
The new plant would be expected to clean 750,000 bushels a year and reach a million in five years.
The board has already purchased the blue prints from that facility as it is believed it will save the new 11-22 Seed Cleaning Plant in the long run and already have the land secured to build on.
Deputy Reeve Richard Oster asked the board what would the incentive be to run the plant as profitable company rather then seeing it being given back to the county five years down the road
"There has to be buy in", said Oster.
Lentz responded with that some of the board of directors are confident that $1 million will be raised, while he is a little more optimistic that $250,000 will be raised in investment shares.
Beck added that at their upcoming AGM they hope to bring in as many members to that meeting to get the shares required.