County fire stations saw an increase in members in 2018
Posted on January 9, 2019 by 40 Mile Commentator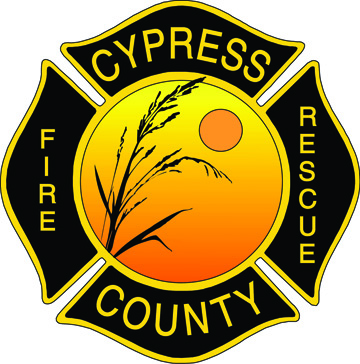 By: Justin Seward
Commentator/Courier
Over the course of 2018, Cypress County's fire departments had more members join and saw less calls for duty to grass fires, meaning more time for training and less driving at a high rate of speed to get to a call.
"Everything went pretty good," said Cypress County fire chief Kelly Meyer.
"Our call volume went down for grassfires compared to 2017. We did see an increase in medical calls through the county with vehicle accidents and just a lot of false alarms in 2018.
"All of our members, they performed admirably, and they responded to every call. We continue to strive for that in 2019."
Meyer said the low number of grass fires was due to residence being more cautious and the county putting a fire restriction on for most of the summer with the lingering dry temperatures and lack of precipitation.
"Mostly it was the residence getting a burn permit when the conditions were right versus wanting to burn for no reason," he said.
Throughout all of Cypress County's Emergency Services, six new firefighters came on board and joined the ranks, bringing the number to over 140, keeping the number of firemen consistent as some retire and move away.
"The more people we draw from in an emergency, it just makes life a lot easier," he said.
"(In) Box Springs, Dunmore and Seven Persons, we're capped out for the amount of people we can have. But we're always looking for people in Elkwater, Schuler, Irvine, Onefour and Hilda."
Total calls amounted to 400 throughout the year.
Other highlights for county fire services included seeing 13 firefighters going through the 1001 program (the minimum standard of qualifications to be a firefighter). The county's first tender (bigger water truck) was purchased from the City of Medicine Hat, a move that was "pretty exciting," for the municipality according to Meyer because they never owned one before.
"We have that ability to respond quicker and have more water on scene versus waiting for farmers and ranchers," he said.
A new fire agreement was reached between the county and the City of Medicine Hat. Cypress County will pay $286,300 in 2019 and down to $73,000 in 2020. The model is a fixed cost system and not a pay for service model.
With all the work the firefighters did this past year, it shows a lot of initiatives moving forward into 2019.
"It shows that we're altogether and one big team," he said.
"Cypress County is not individual fire stations. It's one department with nine fire stations."
Communication among all the fire departments is improving, he added, as all the members are learning how to work as one.
He would like to see more members do more training, strengthening ties with neighbouring municipalities and cities and continue to provide the best fire services for the ratepayers.