County postpones cannabis zoning vote until the 'smelly' problem is addressed
Posted on January 22, 2019 by 40 Mile Commentator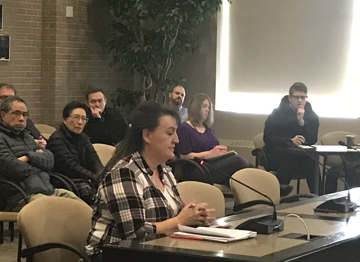 VERY CONCERNED:Joy Huffadine expressed her concern for security of proposed cannabis growth at the Cypress County council meeting on Jan. 15.
Justin Seward
Commentator/Courier
Greenhouse owners who are interested in growing cannabis in their facilities will have to wait a little longer after Cypress County's CAO Tarolyn Aaserud put the motion forward to postpone passing the proposed Bylaw 2018/41 Land use Bylaw amendment, following a public hearing at the Jan. 15 council meeting.
It was following the public hearing, that council voted to postpone the final decision to create a new agriculture/horticulture zone for greenhouses to grow cannabis until councillors and county staff can travel to other areas to get educated on how other greenhouse operators control the smell with nearby residences in the area. The bylaw does not have an odour component right now.
"These facilities are reasonably smelly," said Coun. Ernest Mudie.
"I think 300 ft is a little close for a smelly greenhouse to a residence, unless there is a bylaw to control it."
The proposed bylaw amendment includes under the Licensed Medical Cannabis Production Facility section that the minimum distance of separation of 100 metres from nearest property line from an existing dwelling or school. Additionally, include A-5 Agriculture/Horticulture Production District and remove Industrial District.
"I appreciated the effort to bring some diversity to the economy (and) to the area," said Dirk Vis of Sunshine Greenhouses.
County resident, Joy Huffadine, lives less than one-kilometre from an existing greenhouse and was concerned with the safety and security of children.
"I live in Cypress County because I wanted to be away from the city, lights and noise," she said.
"I wanted to be able to step outside to gaze at the stars (and) listen to my kids. I want safety for my kids (and) when they're waiting for the bus, they're not going to be around these compounds and security issues …These compounds are designed to keep the bad guys out of these facilities.
"I want to be able to have my children grow up in an agriculture community, not an industrial community … I think the smell is horrid."
Ryan Cramer, who is a partner with Big Marble Greenhouses, will continue to grow vegetables and has no plans to expand for cannabis.
"I live as close to a greenhouse as anybody else and I'm raising young kids as well. It is the utmost importance to me that this is not impactful to the safety of the neighbourhood as well as the concern with the odour."
"I know there is methods to mitigate the odour and we have looked into this. This is something we would be in favour of as well and definitely do our best to make sure it's contained."
At the Dec. 5, 2018 council meeting, council granted first reading to Bylaw 2018/41 to give consideration for the Production Facility District. After the first reading, local greenhouse owners were contacted about the proposed change and what came of the discussions is the proposed district has been amended to allow for the continuance of greenhouse operations, and the conversion to cannabis production while retaining the character of Agriculture District.
The postponed vote will happen at the Feb.19 regular council meeting.