Watson to co-host footwear fundraiser this weekend
Posted on January 29, 2019 by 40 Mile Commentator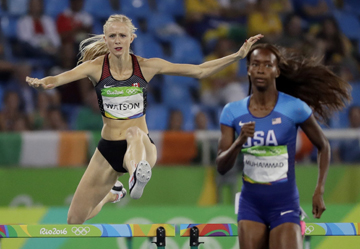 Canada's Sage Watson, left, competes in a women's 400-meter hurdles semifinal during the athletics competitions of the 2016 Summer Olympics at the Olympic stadium in Rio de Janeiro, Brazil, Tuesday, Aug. 16, 2016. (AP Photo/David J. Phillip)
Justin Seward
Commentator/Courier
Seven Persons 400 metre professional hurdler and Olympian Sage Watson knows the importance of having proper footwear while in competition.
Now Watson has teamed up with Hell's Basement Brewery and the Medicine Hat Track and Field Society to make sure young school athletes have the proper shoes for their own games through the "Brews for Shoes" fundraiser on Feb. 2.
The event will help raise funds to buy less fortunate school kids in Medicine Hat and surrounding area proper shoes.
"Earlier in the fall I had been at my younger brother's volleyball game and I noticed that two of the kids on the opposing team didn't even have athletic shoes to wear," said Watson. "I decided to go buy them running shoes. Seeing the expression on their faces was so rewarding.
"It's one of those moments where a pair of shoes help you believe in yourself a bit more. I just want to see the athletic community in Medicine Hat and the surrounding area grow and just give a chance to kids who go after their athletic dream."
Once the funds are received at the event, the track society will reach out to coaches and teachers to create direct connections to students in need of shoes.
"A pair of shoes now costs a $100 or more," she said. "A lot of families can't buy their kids basketball shoes, the track spikes for all these different things. It would just be great to have something (for) the coaches and teachers. They can reach out to us and we can help provide those shoes to kids that are in need of them."
A beer — Fast Belgian Blonde Ale — was made between Watson and the brewery. For every pint of it sold during the fundraiser, $2 will be donated to the cause. For any other pints sold during the event, $1 will be donated. In addition a silent auction and general donations will be accepted.
"I said I wanted to make a Belgian blonde because I actually train a lot in Belgium over the summers," she said on the brew choice.
She is currently back training in preparation for the world relays in May and the world championships in September.
Her focus is on outdoor season, she added.
The following year will entail the 2020 Olympic Summer Games in Tokyo.
Once the total amount is determined from the fundraiser, then organizers will go through how many submitted applications will be accepted.
The fundraiser is on Saturday, Feb. 2 from 3-7 p.m. and will include free appetizers.
More details on applications will be released after the event.