Redcliff author publishes second book
Posted on February 14, 2019 by 40 Mile Commentator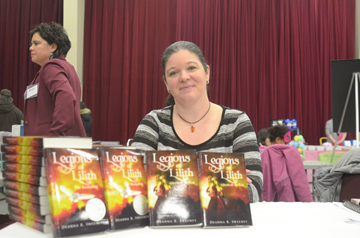 Redcliff author Deanna Sweeney will be hosting a writing workshop fundraiser on Sept. 10 and 17 with all proceeds going back into the Redcliff library.
By Mo Cranker
Alberta Newspaper Group
A Redcliff author published the second book in her three-part series in January and was at the Stampede Grounds Saturday signing and selling copies of her latest release.
Deanna Sweeney released Legions of Lilith: The Awakening in 2016, and just weeks ago was able to publish the sequel Legions of Lilith: Ghosts of the Past.
"I'm really lucky because I was picked up by a really good publisher right away," said Sweeney. "I write part time and work part time and it's a good balance."
The book series is about a woman in her mid-20s who is plagued with visions and seeing the dead.
"People around her start winding up dead, murdered, tortured and she ends up being framed for it," she said. "She ends up having to use her visions to solve these things.
"I won't say much more — I don't want to spoil it for anyone."
Sweeney says the books blend multiple genres.
"It's got a few genres in there," she said. "It's got a bit of fantasy in there, it's got thriller and it's got murder mystery.
"This is geared for people in their 20s and older."
The trilogy will be wrapping up next year with the final installment slated for January. Sweeney already has another contract for another trilogy that will begin in 2020, she says.
"I'm three quarters of the way through the final book," she said. "It's actually turning out quite different than I had originally expected.
"I just sit down and write. I don't plot things out like kids are taught to — I never really know where the book is going to go until I finish it."
Sweeney's first book can be found at the Coles in the Medicine Hat Mall and both of the books can be found online on http://www.amazon.ca.