Gators' Phillips and Andreas take home top athletic award
Posted on July 2, 2019 by 40 Mile Commentator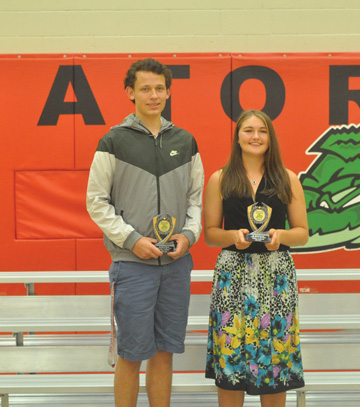 Commentator Courier Photo by Justin Seward Aidyn Phillips and Jessica Andreas won the athlete of the year awards.
By Justin Seward
Commentator/ Courier
Senator Gershaw Gators senior athletes' Aidyn Phillips and Jessica Andreas took home male and female athlete of the year awards at the school's year end award ceremony on June 27.
"It feels pretty great," said Phillips
"I'm a part of a pretty athletic class,"
Philips was a part of the 1A provincial winning teams with boys volleyball and most recently being a part of the school's first ever track and field provincial banner earlier this month in Calgary and felt honoured with the award.
"Volleyball was pretty awesome, winning provincials for the first time. It feels great" he said.
The graduating Grade 12 student was a multi-sport athlete at the Bow Island School as he played volleyball, basketball, badminton and track and field.
"The coaches made it great," he said.
"They weren't too hard on us. But they were hard enough to push us."
Phillips says the reason for so many sports is he liked to stay active and help him work towards his dream of playing volleyball at the Alberta Colleges Athletic Conference level.
His dream has come true as he will suiting up for the Olds College Broncos mens volleyball team on a scholarship this fall and has enrolled in the business management program.
"The speed is just so much faster, everyone touches higher, everyone's quicker, everyone's taller, especially compared to playing 1A," said Phillips.
Jessica Andreas won the female athlete of the year in her Grade 11 year.
"It feels absolutely amazing. I've dedicated most of my life to sports," she said.
"But I've still had to balance it will academics and volunteering. So just showing I'm putting myself in different aspects in my life, I'm still able to go out on top in the athletics portion. There is so many good athletes, so it's really an honour they recognize me to be the top athlete."
Andreas teed it up for the golf team and also played volleyball, basketball, badminton and track and field.
Here are the other senior high awards:
Grade 11 sport awards go to the top athlete in their sport and included Blayze Uchikura in boys volleyball, Kiara Porteous for female volleyball, Brendan Smith in boys basketball and Jessikah Babe for girls basketball.
Grade 12 top athlete awards: Chris Byam (boys volleyball), Shay Yates (girls volleyball), Aidyn Phillips, Katrina Van Es (girls basketball).
Individual sports: Blayze Uchikara (boys golf), Jessica Andreas (girls golf), Garren Oosterhuis (boys track and field), Nickola Haugan (girls track and field), Phillips (badminton), Taryn Smoth (girls badminton).
Three years of playing at the high school level recogntion: Shay Yates, Chris Byam, Aidyn Phillips and Thomas Smith for badminton, Byam and Phillips for badminton and Shailiyn Yates for softball, Smth and Phillips for basketbal. Nickola Haugan, Karli Haugan, Phillips, Byam, Oosterhuis and Ryley Segouin were recognized for track and field.
Team academic awards: First place went to senior girls volleyball with an average of 87.10 per cent, second place junior A girls basketball-84.49 per cent and third place senior girls basketball at 84. 44 per cent.