Bow Island campground expansion now complete
Posted on July 9, 2019 by 40 Mile Commentator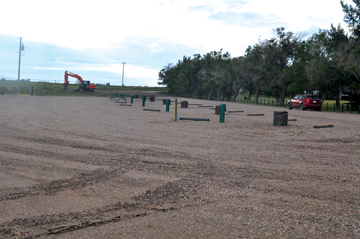 Commentator/Courier Photo by Justin Seward Bow Island's Centennial Park campground expansion was completed last week.
Justin Seward
Commentator/Courier
Bow Island's Centennial Park campground expansion was completed as of last week.
The expansion included 14 new campsites on the south side with water and power hook ups, bringing the number of sites to 32.
"I think this was something that was planned for a few years now was to add more campsites ," said Town of Bow Island Chief Administrative Officer Dave Matz.
"There's a small piece of land that the town owns and was never being used. It was used as over flow parking and so they wanted to put some over flow camping out there."
Matz says the campground expansion was necessary because the existing site found on busy weekends the 18 current campsites filled up quickly.
"We were in a hurry to get this done this year because of the Highway 3 construction and the windmill building," he said.
"There is (a lot) of businesses looking for long term stays at the campground."
The plan for the existing campground is for normal campers, while for the new expansion, the new sites will be for local projects workers and groups, he added.
"We think we can put a few of the workers from the windmills in there," said Matz.
"It's hard to say how many workers are coming in because they phone in sometimes looking. Then they're not looking for a campsite. This spring our campground was full due to the Highway 3 construction and now they've moved out and we're just looking mostly for windmill workers to move in."
Matz says it's unlikely the town will have to turn anybody away with the additional campsites.
A long term stay is an option but campers would still pay the same overnight fee.
Booking can be done through phoning the town at (403) 545-2522 or directly at the campground.