Medicine Hat Women's Shelter Society focus on filling gaps in rural community
Posted on November 19, 2019 by 40 Mile Commentator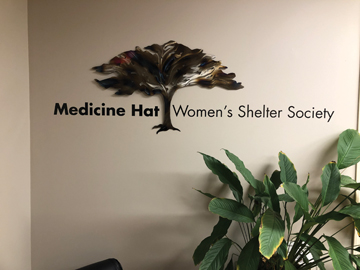 By Justin Seward
Commentator/Courier
The Medicine Hat Women's Shelter Society has continually for the past four years reached out to rural communities as a reminder that help is nearby for victims of family and domestic violence.
"We're aware that part of what impacts family violence more in the rural community is the isolation piece and lack of services," said executive director Natasha Carvalho.
"We're really trying to expand our services so that we can reach some of those outlying areas. We've been going to Oyen and we've been going out to Bow Island, just doing some things like that to make people aware of what services are available."
Carvalho says although the organization exists under the Medicine Hat Women's Shelter Society name, staff have always known their area is bigger geographically and wanted to spread out to the rural.
"Brooks has a shelter and they service that area. Taber has a shelter and they go that way," she said.
"In between this middle ground, it's quite a big area, and we always just wanted to make sure of that. We worked really closely with Redcliff and the RCMP out there. We do a lot of work with them and started expanding."
She says a common call the shelter receives in rural areas is for animals that have to stay back on the farms.
"Sometimes one of the things that we're seeing is for families that are living out on farms, where there might be animals, a lot of times there is a fear of leaving (and) fear of leaving the animals," said Carvalho.
"That is a reality for a lot of people. I think that's a lot of the reasons women struggle with leaving."
Redcliff RCMP Staff Sgt. Sean Maxwell says police take family violence "extremely seriously" and utilize all of their policing partners and others that include the Victim Services Unit and the Medicine Hat Women's Shelter.
"I think it's important in the rural area," said Maxwell.
"You've got time and distance and people being able to access certain areas and where it's possible for us to assist people. We definitely do in terms of getting people into Medicine Hat,escorting the victim and ensuring their safety. The women's shelter is always there to support anybody that comes to them."
Domestic violence has been on the rise as of late.
"I would say it's a trending pattern that has gone up over the last couple of years," said Maxwell. "We're getting more and more calls. It's certainly something I've brought up at Rural Crime Watch meetings to council meetings just so people are aware of it."
Redcliff RCMP has had 51 domestic abuse calls from January to October 2019, more than double the 25 in 2018.
Maxwell says while he does not know the cause of the increase, it could include multiple factors due to economic reasons, substance abuse or relationship issues.
The women's shelter includes emergency and a second stay building and outreach services that will talk with people over the phone, drop-in consultation, children's day care and one-on one services for kids who have been affected by family violence.
November is Family Violence Awareness Month.