Senator Gershaw takes its grad ceremony outdoors
Posted on June 24, 2020 by 40 Mile Commentator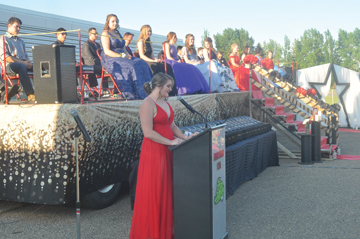 Valedictorian Jessica Andreas gave her speech on the Class of 2020 on June 19.
By Justin Seward
Commentator/Courier
While Senator Gershaw School hopes this is the first and last time they have to alter their graduation ceremony, Friday night was still the picture-perfect evening to celebrate the 2020 graduates.
The grad committee and the Grade 12s put their thinking caps on and came up with a drive-in ceremony that included rows of cars in the parking lot where people could listen to the proceedings through an FM transmitter, a digital screen was set-up with a slide show of the class and passed on messages from the mayor, local MLA and school board representatives.
Parents handed graduating certificates to their kids.
The grads walked the red carpet up to the flatbed trailer stage in front of family.
Valedictorian Jessica Andreas addressed her fellow classmates a speech with thank yous and memories .
"I am here today because out of everything I could be good at, I am good at learning and taking tests," said Andreas.
"I look at my class and I know that being up here doesn't make me unique. It shows that we were being judged by one of my strengths, and not one of theirs. If who was speaking today was decided in any other way, I would have the honour of listening to one of my classmates' speeches. There are amazing mechanics, artists, singers, dancers, cat milkers, chefs and athletes in this class. My class is special. I have seen the amazing feats they have done and untapped potential in each of them."
Many thanks were given to school brass for making this day possible.
"I give a special shout out to Mrs. (Danielle) Gruninger and Mr. (principal Scott) Angle, who worked above and beyond to organize our graduation," said Andreas.
"I would like to extend my deepest gratitude to everyone who got us here today. At times, I know it was not easy. Between playing with the piñata, when we were supposed to be in the class to art room wrestling matches in Grade 7, we have had many memorable and unconventional moments.
"I can stand here today and try to list everything my class has done. I can tell you why they're so unique and special. I could recall every crazy and amazing moment, but that would take all day. I would be honoured to grow up with my class. I would not be who I am today without them, I would not be here today without them and I would not be here standing before you with out them."
She has learned so much from her class and looks forward to what the future holds.
"AsI look towards the future, although I see more amazing memories, it also breaks my heart that I will not have them by my side," she said.
Angle says for the first time of doing something completely different, the ceremony went really well despite a few changes.
"Of course, there's always a few things when it's your first time through, that you maybe would have changed in the future," said Angle.
"Also it was a big challenge too that we don't have kids in school to communicate with. We're communicating virtually obviously and some things get lost when you do that. Overall, it was fantastic. The weather could not be anymore perfect and the community support was fantastic."
Angle referred to speech when remembering these kids in that "they have to be able adjust to what the world is going on around them and I think they're really seeing that now."
The night ended with the students hopping on trailers and being escorted around town by the police and fire.
The grads pulled out the lyrics, "Life goes fast than you think," from Kenny Chesney's song 'Don't Blink ' for their theme.