Rattlesnake Ridge Wind project announces corporate partner
Posted on July 22, 2020 by 40 Mile Commentator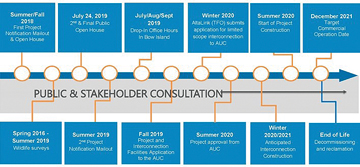 Graphic submitted A LINE OF TIME: This graphic is a timeline of the Rattlesnake Ridge Wind Farm project in the works in the County of Forty Mile.
By Stan Ashbee
Alberta Newspaper Group
Wind in the southeastern Alberta region is plentiful, powerful, and a natural resource that can be harnessed to create energy, jobs, and economic growth. Located within the County of Forty Mile, the Rattlesnake Ridge Wind project is moving forward, as BHE Canada awaits approval from the Alberta Utilities Commission (AUC).
In October 2019, BHE Canada announced it would break ground on a new wind farm in southeast Alberta, noted Scott Schreiner, spokesperson for BHE Canada. The project is a 117-MW wind farm, expected to cost in the neighbourhood of $200 million.
"The biggest thing with this one is this wind farm is being built without the need for government subsidies," said Schreiner.
According to the spokesperson, BHE Canada has filed an application to construct the wind farm and connect it to the transmission line with the AUC. "The process went through a hearing and that hearing has been closed. Now, we are waiting for a decision from the AUC."
While waiting for a decision from the AUC, Schreiner explained, BHE Canada is starting to do preliminary work on road access.
"The lion's share of the work would start after we would receive that approval. Where we would do some road access and some foundation work this fall before freeze-up," Schreiner said.
In the spring, Schreiner added, is when tower assembly and building the collector and sub-stations would occur. "With the goal to have the project in-service by the end of 2021." Rattlesnake Ridge is a single-phase project.
Schreiner said BHE Canada's corporate partner has been announced as Telus. "We've secured a customer for the majority of the energy coming up from this wind farm."
Telus has signed up to take about two-thirds of the capacity of the Rattlesnake Ridge Wind project, Schreiner pointed out.
"That allows us to be able to build without government subsidy. It's a great opportunity to have a couple of Canadian companies working together to get this done," said Schreiner.