Arkells' 'Campfire Chords' offers a warm hug in 2020
Posted on September 9, 2020 by 40 Mile Commentator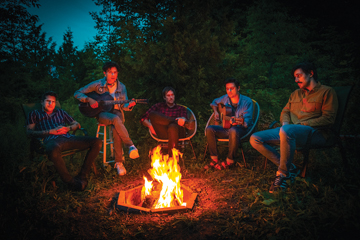 PHOTO SUBMITTED SING-A-LONG SONGS: ItÕs an almost greatest hits compilation from one of CanadaÕs greatest rock and roll bands. ÒCampfire ChordsÓ is Arkells, at their finest -Ñ acoustic, stripped-down, and raw.
By Stan Ashbee
Alta. Newspaper Group
Summer 2020, like the rest of the year, was a dive into unchartered territory, as Canadians from coast-to-coast tried to make sense of a changed world due to an unrelenting global pandemic. But often through bad times, comes a light at the end of the tunnel.
For rock and roll music enthusiasts and Arkells fans, "Campfire Chords" was like a knight in shining armour ? coming to the rescue, and just in time.
Near the end of August, a stripped-back collection featuring 17 of the Canadian band's most beloved songs plus a brand-new single "Quitting You," was released.
"As the music landscape continues to evolve in 2020, Arkells took a pause from working on their upcoming studio album and went back to their roots, reinterpreting past material and rediscovering the singer-songwriter spirit that has long informed their trademark sing-a-longs."
"2020 has obviously been a strange year for a lot of different reasons. We've been really working hard on our next proper full-length record. We were down in Los Angeles in February and I think we're about 85 per cent done. We were thinking about playing songs from that album, but as we got into the spring and summer, it didn't really feel like we wanted to put out something brand new if we couldn't go out and play it. Especially, the kind of big songs we were thinking about for that record," said frontman Max Kerman.
Part of the fun, Kerman added, is putting out a song and then going out and playing it for a "big old crowd."
"We paused that, and we thought, let's read the room for a second. 2020 became a quieter year. Most people are listening to music in their kitchens, or in the backyard, or on camping trips, or around a campfire. We thought, this might actually be an opportunity to do something we've never had time to get to ? which is, make an acoustic album and re-imagine our songs from our catalogue," Kerman noted.
To be honest, Kerman admitted, the band really has never had time or an interest in doing an acoustic record, up until now. "To be able to record at home and send the songs around to all the guys, allowed us to actually re-imagine the songs in a way that felt interesting to us and that we were really proud of."
Typically, the band records together in a studio or jam songs out. With the latest collection, the band was already quite familiar with the songs. "We performed the songs acoustically already and all the songs started in a stripped-down kind of way. Usually, when a song is first being born, it's usually just on a piano and on a guitar and then the vocals."
"It was kind of unknown territory and we had to feel our way through it," said Kerman, joking everybody was sitting at home, and it gave them something to do.
Generally, Kerman pointed out, the band tries not to be dogmatic about what they do and what their process is.
"I think it's really good, as an artist, to be open-minded with new ideas. That's how you evolve."
"Quitting You," the only new song on the album, was inspired by the togetherness of this special project and is about finding comfort in the people closest to you.
"It sort of has a classic folk feel," Kerman said. The new album is a collection of different players, personalities, and instrumentations.
"Campfire Chords" includes the hits "Leather Jacket," "Relentless," and "Hand Me Downs."
As for wrapping up the summer of 2020, the band just filmed a performance for "Budweiser Stage at Home" ? a special edition of the TV series, which aired Aug. 29 on CityTV, Citytv.com, and via Live Nation's "Live From Home" platform, and the band also performed the night hockey made its Canadian comeback. Earlier this year, the band also offered an online "Flatten the Curve" music class, which was a unique way to connect with fans, when live music was astoundingly put on-hold.
Going into the fall, Kerman said, it's all about completing the band's next full-length record. "Everything in 2020 is new and a little bit different. We're really thinking about how we can finish the record and make it as good as it can be."
For now though, it's just taking it day-by-day, Kerman continued. "The world is an uncertain place and thinking too far into the future can be a daunting exercise. We're just trying to make every day good with hope and optimism we can get back playing shows and there will be some kind of normalcy. But, for now, keep our head down and keep doing things that feel fulfilling."
"Campfire Chords" is available on all streaming platforms, on vinyl at select record stores, and through the band's official website.