Local Chainsaw artist creates memorial bench to honour veterans
Posted on November 17, 2020 by 40 Mile Commentator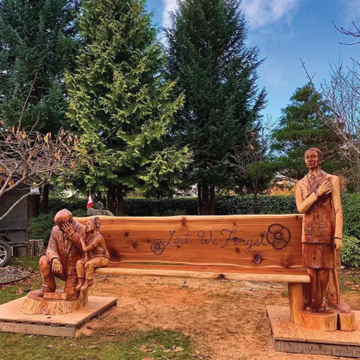 Submitted Photo by Marina Cole A MASTERPIECE : Chainsaw Spirit's Marina Cole was out in Qualicum Beach, B.C. earlier this month carving a bench for the town's Remembrance Day plan.
By Justin Seward
Commentator/Courier
Local chainsaw artist Marina Cole packed up her equipment and headed west to Qualicum Beach, B.C. to carve a memorial bench to honour Canadian soldiers for Remembrance Day.
"There was supposed to be a Timber Fest happening here this year, obviously COVID had cancelled that Timber Fest competition with a bunch of other artists and such ," said the Chainsaw Spirit owner, who is based out of Irvine.
"I had gotten a phone call once it was cancelled from Ryan Cochran (Timber Fest coordinator) to see if I'd be willing to come down here and just give them a little piece of what would have happened and what will hopefully be happening next year at Timber Fest."
The Qualicum Beach Legion, mayor and First Nations chief chose Cole to come down and do the carving as a part of the town's Remembrance Day plan.
Cole arrived at Qualicum Beach on Nov. 2 and a project came to fruition when she saw a photo on the wall that had a grandfather and granddaughter at the legion.
"You know something to do with past, present (and) future (and) everyone to be remembered like women, children and the men," she said.
"That's when the bench came into play. When I had carved them, I had carved a man, which was the senior veteran that was kneeling at a gravesite of a fallen soldier-one of his friends or other comrades from the years past. I kind of made that my past with his granddaughter. He's kind of sheltering a tear from his granddaughter and tries to let her know he's not upset, which is obviously what soldiers did for us by serving. They try to protect a future, which are their children and their families at home."
On the other side, she carved a current day veteran to give the bench of what the present would look like.
"I wanted to put that in there as well because it's men and women who have fought," said Cole.
"…There are people nowadays that are fighting younger, so that was kind of present."
She made the bench from fallen or dead trees that were collected and stored at the airport.
"I had a friend come and mill some planks for me and it worked perfectly," she said.
"Qualicum Beach has been absolutely amazing for help."
The process lasted a week and the final coating was put on Nov. 10.
The bench will be placed on Memorial Avenue in the Vancouver Island town.