Hidden Valley Ski Resort still finalizing ski season details
Posted on November 24, 2020 by 40 Mile Commentator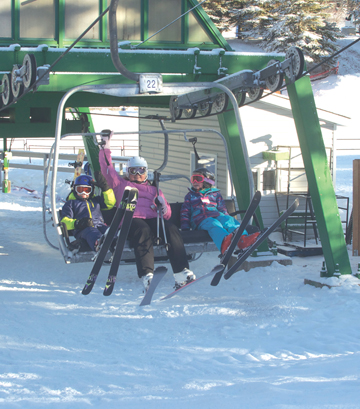 Commentator/ Courier File Photo Theo and Yolanda Marx, along with Carly Kaempel, came all the way in from Moose Jaw to enjoy the sunshine on Hidden Valley Ski Resort's opening day on Dec. 16, 2017. The ski season for 2021/22 is in jeopardy as the hill sits in limbo awaiting a private operator to take over.
By Justin Seward
Commentator/Courier
Hidden Valley Ski Resort is expected to have the final details of what the ski season will look like within the next couple of weeks.
The Cypress Hills Inter-provincial Park ski resort is tentatively aiming to open the slopes on Dec. 12. However, that date could be pushed back to Dec. 18, pending weather conditions.
"Right now it's on snow conditions because the forecast doesn't look so good for making snow or keeping the snow that we have," said Mike Ractliffe, head of visitors services for the park.
"And two, the other thing that might affect it might be the ability to hire additional staff due to COVID-19 policies and procedures. If we can't open on the 12th, we would definitely push it back as a possible date to the 18th."
He expects there to be a limit on building capacities around the Lodge and rentals, lesson structures will see adjustments, no schools or groups will be coming to the hill this year and there will be a host of guidelines for staff to follow.
"Right now we're still in the process of finalizing what this actually looks like," said Ractliffe.
"We're trying to learn lessons from other ski resorts that have been open already and have to make changes and adapt as the COVID situation changes as well.
"We just want to make sure when we put the information out, it's pretty much the final plan and we won't have to change it and get it right the first time. There's nothing being published as (of) yet because we're still in the process of getting everything tweaked."
Ractliffe said the biggest challenge is "essentially having to reinvent the wheel."
"The facility remains the same, the chair lift is a chair lift, the T-bar is a T-bar, the Lodge is a Lodge. But how we manage those and the products and services that we can actually provide based on the resources we have – such as online ticket sales – we're having to move everything to an online ticket sale system, which we've never had before. We're having to reinvent our sales system and our POS (point of sales) system.
"We're having to reinvent the policies and procedures for (how) our house staff conduct their work environment."
His hope is to have a plan out to the public by the end of the month.