County of Forty Mile signs off on water cost agreement with Village
Posted on February 16, 2021 by 40 Mile Commentator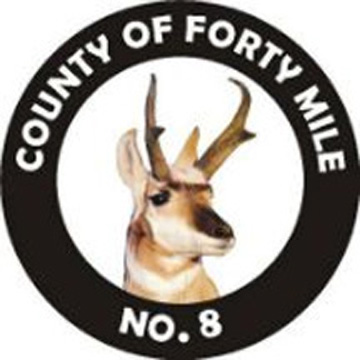 By Justin Seward
Commentator/Courier
The County of Forty Mile completed the last step of the Water 4 Life project by signing a water purchase agreement with the Village of Foremost at the Feb. 10 council meeting.
"Both councils worked on that back and forth and the utility committees," said Steve Wikkerink, County of Forty Mile reeve.
"And we came up to an agreement and got it signed."
In signing the agreement, the Village will determine what the County will pay per cubic metre of water for the potable water being distributed from the water treatment plant to the hamlets.
"It (the cost) gets adjusted a little bit (and) depends on how much maintenance is needed that year and what the cost of electricity is and chemicals," he said.
The county is going to try and have a rate that does not fluctuate as much.
"We're going to try and have a fairly flat rate for all of our people in the community that we're serving, so they're rates don't bounce up and down," said Wikkerink.
The three-year Water 4 Life project involved drilling new wells, putting the water in the raw water collection system and pipe the water back to the Foremost Water Treatment plant and the county's new piping of potable water is now being distributed from Foremost to Manyberries.
"That treatment plant services potable water to the Village of Foremost, and that's what the Village takes care of and then we as a County buy water from the village," said Wikkerink.
"We put in pipeline to go from Foremost all the way to Etzikom, Manyberries and tie in Orion and Nemiscam."
County brief
New administration building and ag shop expansion
Collier Project Leaders is the engineering firm that is overseeing the new county administration buildings and ag shop expansion project on the public works building.
The firm notified council that the tender has been awarded to Calgary's Scott Builders Inc.
"The tender came in almost half-a-million dollars below what the engineers put together for numbers," said Wikkerink.
The cost of the project came in at just over $ 6.2 million.
The project is tentatively going to begin in April and a projected completion date of June 2022.