Bow Island Fire Department hosting a Cash Raffle fundraiser
Posted on April 13, 2021 by 40 Mile Commentator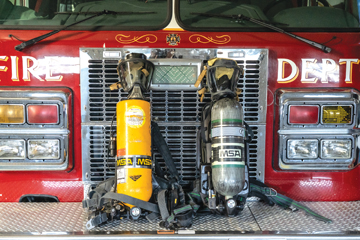 Photo submitted by Bow Island Fire Department The Bow Island Fire Department is raising funds to purchase a new self contained breathing apparatus for the fire hall. The old yellow bottle style is on the left and the fire department is wanting to upgrade to the new SCBA on the right side of the picture.
By Justin Seward
Commentator/Courier
The Bow Island Fire Department is hosting a Cash Raffle fundraiser until the end of the month.
Local firefighters hope to raise at least $15,000 from the fundraiser, where there will be a $5,000 winner and the remaining funds would go to a new SCBA (Self Contained Breathing Apparatus), which is $10,000 in value.
"We've done things a little differently this year, trying to make things a little bit smoother with COVID," said Grenner Veilleaux, member firefighter of the department.
"We've tried to set it up to make things as easy as possible for people to try their luck and help out the Bow Island Fire Department."
The Cash Raffle Fundraiser goes until April 30. The winner of the $5,000 will be drawn on May 10.
People can go to https://www2.rafflebox.ca/raffle/boxislandfd to purchase tickets. Ticket prices are on the website.
"As you can see, it costs quite a bit for this fire equipment," said Veilleaux.
"Most of it has expiry dates or needs to be re-certified every so often. We typically do a fundraiser every year to help out with getting new equipment."
The Cash Raffle fundraiser is replacing the annual Traeger pellet grill draw fundraiser.