Early start benefiting Desert Blume's golf operations
Posted on May 5, 2021 by 40 Mile Commentator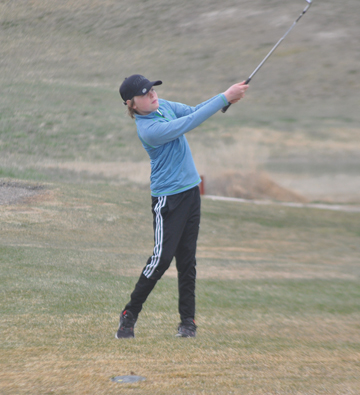 Commentator/Courier Photo by Justin Seward Adam Sim, 14, chips his shot on to the first greem at Desert Blume on April 26.
By Justin Seward
Commentator/Courier
Desert Blume Golf Club has its earliest start ever in recent memory in March and has experienced a busy start to the 2021 golf season.
"When the weather's decent, and not raining or snowing, it's been actually full pretty much," said Trevor Ellerman, Desert Blume's general manager/owner.
Ellerman said people are excited to get going out of winter, regardless.
"Obviously this year with various restrictions in place, people were even a little bit more eager to get out," he said.
"I think an early start definitely bodes well or gives you the opportunity to get ahead of the game. This year, compared to last year we didn't get open until May 2, and opening March 19, gives us a 43-day head start. And it would give us the opportunity to get some revenue, obviously ahead of revenue, and kind of go from there."
Ellerman feels as well with the early start that it has provided the golf course with some leeway with some bonus revenue because  of the restaurant restrictions being enforced and limiting business to take-out or patio service only.
What the golf industry has learned over the last year is the sport is popular again.
"I think COVID has given us the opportunity in golf to reinvent a bit and having the opportunity to be at some point the only activity almost that you can do in some regards, (and) has given us a chance to be a lot through the year and to reacquaint people to the game," said Ellerman.
"We've seen that's it's been way busier—memberships are up, green fee play is up. When the restaurant and clubhouse can be open, the restaurant business is up, so it's definitely helped and it's not just our club. I think it's all the area clubs."
Desert Blume has found that people have gravitated back to the game in the last year.
"I think this year, we've seen a carry forward from that," he said.
"We've seen (a) lot of new people join, new members and new people play, which we continue to see this year as well. It's definitely carried over for the 2021 season for sure—you're only hoping it continues that way. But you're just going to take it and enjoy the ride right now and see where it takes us."
Junior golfers doubled in numbers last year and the same this year.
Ellerman said it falls into categories in a sense.
"Like kids who couldn't play other sports, gravitated towards golf as sport they could do," he said.
"Also, their parents to some degree, at that point, started to play a little more and picked up the game a little more as well."