Wife makes CCTV court appearance charged with murder of county councillor
Posted on October 27, 2021 by 40 Mile Commentator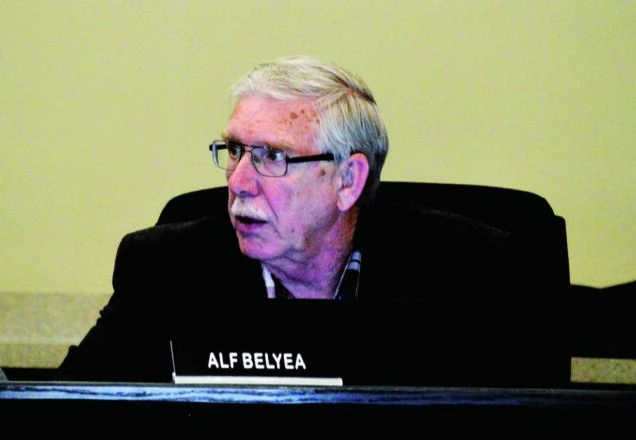 County councillor Alf Belyea, pictured in this recent file photo.--NEWS FILE PHOTO
By Collin Gallant
Southern Alberta Newspapers
The body of a missing Suffield man was discovered near Piapot, Sask., the News has learned, and his wife appeared in court on Oct. 18, charged with his murder.
Carrying an oxygen tank and with her voice quivering, Deborah Belyea appeared in Medicine Hat provincial court Monday charged with second-degree murder in the death of her husband, Cypress County councillor Alf Belyea.
Sources tell the News that a large RCMP operation took place on Friday and Saturday in southwest Saskatchewan, where officers reportedly searched an isolated barn in the Piapot region, about 160 kilometres east of Suffield on the Trans-Canada Highway.
RCMP officials have not confirmed that report yet and officials told the News on Friday that there was no new information that would be released about the search, but several additional units were joining the investigation.
Charges were laid Saturday, eight days after the 72-year-old man was last seen. A missing persons investigation was launched following the Thanksgiving weekend.
At the time, RCMP told reporters he was last seen on Oct. 8 after telling his wife Deborah, 68, he was leaving their residence near Suffield to go visiting.
She is charged with second-degree homicide and causing an indignity to a human body, likely related to transporting remains to an undisclosed location.
No other information was released by the RCMP detachment in Redcliff, which handled the case with the RCMP Major Crimes Unit. A release states that no other information will be released.
Those who knew the couple say they were "absolutely gobsmacked" by the disappearance and charges.
Belyea's colleagues at Cypress County expressed "shock" through a statement on the county's webpage on Saturday.
"Everyone at the County will miss his kind spirit, devotion to his work, and love for the County and the community of Suffield," wrote Reeve Dan Hamilton.
Belyea is the second Cypress County councillor to die while in office in the last two months. Former reeve Darcy Geigle died of a medical event at his home near Walsh on Aug. 29. Belyea had been acclaimed to retain his seat in the ward of Suffield-Jenner in Monday's municipal election.
A byelection will now be required to fill the seat Belyea first won in a 2014 byelection.
The couple had retired to Suffield after Belyea worked in the logging industry and as the public works manager for the Town of Port Clements, B.C., located in the Queen Charlotte Islands, now known as Haida Gwaii.
Bridgit Cumming, a village councillor there, said on Monday she babysat for the couple in the late 1970s and was sad to see them move away in the late 2000s.
"Honestly, I'm staggered to think of Debbie as a suspect in any murder, and of Alf's? It's baffling," she told the News.
She said she wasn't close with the Belyeas, who had three daughters, but said they appeared to be "a devoted couple."
Another Cypress County councillor, Robin Kurpjuweit, said Belyea was a "keen listener" and fair.
"He was Alf," wrote Kurpjuweit, citing his happy demeanour and interest in his colleague's families.
"He was a quiet servant of the public, and the County is a better place for his efforts.
"Outside of council he was a friend, a support and an encourager."
Deborah Murril Belyea appeared before Justice Eric Brooks via closed-circuit TV feed from the Medicine Hat Remand Centre to a near-empty courtroom on Monday.
Local lawyer Lyndon Heidinger also appeared remotely due to capacity restrictions in Alberta courts. He waived a formal reading of the charge, and asked the matter be adjourned until early November so he could discuss the case with his client.