Irvine School Agriculture Discovery Centre logo contest winner announced
Posted on November 2, 2021 by 40 Mile Commentator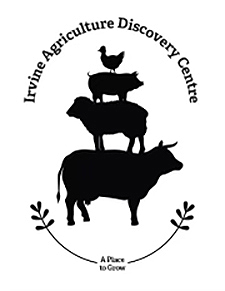 Commentator/courier PHOTO submitted by Nichole Neubauer Pictured is the draft version of the Irvine Agriculture Discovery Centre logo that was sketched by Devyn Leightbown and still needs some tweaks before the sign can be built.
By Justin Seward
Commentator/Courier
Grade 5 Irvine School Devyn Leightbown's logo design for the Irvine School Agriculture Discovery Centre was announced as the contest winner last week.
"I really didn't think I was going to win because the junior highs were doing it too," said Leightbown.
"So, I just kind of forgot about it— so if I did lose, I wouldn't get so uptight on myself for drawing it. And (when) I did win, I was trying not to be too happy because kids in my class entered too."
Leightbown's design was a combination of the animals that she knew that were coming to the farm and the addition of wheat to represent the garden and the slogan in between the straws 'A Place to Grow' to represent the front of the school.
"I knew what I wanted to do," said Leightbown.
"So, I just looked online and drew them. My mom gave me the idea of the wheat and then I did the wheat on it. It took me two days, I think."
Her prize was a $100 Visa gift card.
"What I liked about it was the simplicity of it," said Nichole Neubauer, the Agriculture Discovery Centre's coordinator for the school, who conducted the contest with staff.
"So, it has nicer clean lines, which will make it really easy to use on t-shirts—like anytime you use a graphic, if it can be a little bit simpler, that's better. So, it would definitely look great as a just a black and white or a grey scale logo which is how it will be presented a majority of the time. It was also very inclusive in that she represented both crops and livestock and the way that she stacked livestock, is really synonymous with growing."
Neubauer anticipated there was around 40 entries for the contest.
The logo is now off to a graphic designer to be digitized and after that, the intention is to have shop students build a sign out of metal with posts and a back drop.
The plan is to have merchandise available with the logo too.