Rural Crime Watch introduces new president
Posted on November 23, 2021 by 40 Mile Commentator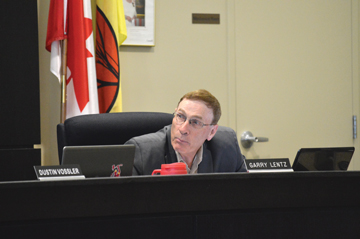 File Photo Garry Lentz
By Samantha Johnson
Commentator/Courier
The South East Rural Crime Watch Association has a new president.
Garry Lentz started farming in the mid-1980's and became a member of the Association soon after. In the early 1990's, Lentz joined the board and has been serving ever since but now finds he has the time to devote to a more demanding position.
A well-known member in the rural community, Lentz served as a councillor on Cypress County council for many years. "I was asked several years ago if I would consider running for chairman, but I was so involved with other organizations at the time. I was chairman of the Alberta Farm Implement Board, which took lots of my time and then I became a county councillor. I was a councillor for 16 years and that was my number one priority. I really didn't feel like I had the time to devote to the organization as chairman. I was forced into retirement from the county council position through election and now I find I have time on my hands that I can devote to this position," said Lentz.
Lentz lost the election four years ago but explained that he "ran again this fall. Several community members called me and encouraged me to run but I was not successful in this last election. I've come to the conclusion that it is time for me to retire from that type of politics."
Discussing the primary objectives of the Association, "some of the goals of rural crime watch are to reduce crime in the rural areas by educating people how to theft proof their property, what to do if they see suspicious vehicles or activities, what to do if they witness a crime in progress, what their rights and responsibilities are as property owners," and Lentz said these remain of highest importance.
Looking forward, Lentz said, "my own personal goal would be to increase membership in the organization, get lots more people involved. I would also like to get the two counties in our area more involved. The idea would be that there are county employees out and about in the rural community each day doing their job and they could be very good eyes in the community."
Lentz, who has been farming for more than 30-years has never been a victim of rural crime and says, "I look forward to working with the organization and the provincial rural crime watch association along with Redcliff and Bow Island RCMP."
The Southeast Rural Crime Watch Association website has lots of information, links, and resources – including videos, police bulletins and tips on avoiding being a victim of fraud or scams – and can be found at seabrcw.ca or visit them on Facebook at http://www.facebook.com/seabrcw/. In addition, there is a new crime watch app that can be downloaded.