Burdett School recognizes long-time local postal worker
Posted on February 1, 2022 by 40 Mile Commentator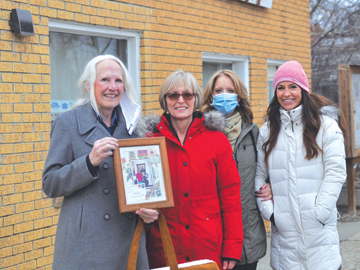 Commentator/Courier photo by Justin Seward Left: From left, Laura Lee Van Tol was presented a past school post office visit picture from Burdett School teachers Ingrid Dekker, Susan Cleland and Susan Reimer on Jan. 26.
By Justin Seward
Commentator/Courier
Burdett Canada Post Office postmistress Laura Lee Van Tol received a pleasant surprise from Burdett School students on Jan. 26 and 27 before she retired on Friday.
The Grade 2 and 3 classes walked down the block to greet Van Tol in front of the post office to perform a happy retirement poem, some students walked up individually to provide her kind words before she set off into retirement and Burdett School tecahers  provided Van Tol with a post office themed picture of a pastschool  visit and the students signed the back of the photo.
"It took my breath away and then all of sudden my heart is aching again and I'm teary," said Van Tol.
Van Tol would often get visits from the school at the post office since taking the Burdett postmistress position in April 2009.
"The kids would come down on different occasions for the beginning of school, they're starting to welcome everyone back into the community after summer vacation, then it's Thanksgiving and you are welcomed by the kids again," she said.
"And then it turns into Remembrance Day, then Christmas—all kinds of reasons to celebrate."
Her favourite memory of school visits was when everybody came in wanting to talk at the same time.
"You have been important and influential to each class I teach at Burdett School as you represent what it is to be an impactful community member," said teacher Susan Cleland, in her opening remarks.
"Your smile, enthusiasm and heart greet us every time we can visit. Learning goes beyond mailboxes, letters, community boards and how we receive our mail— the opportunity to meet and know you allow our hearts to blossom."
Monica Etherington's Grade 1 class made A Tribute of Appreciation book presentation on Jan. 27 to Van Tol.
"It has been a pleasure to have you as part of our school community. It has also been my pleasure to be the coordinator of this keepsake book together with many contributions from students in Kindergarten, Grade 1, Grade 2 and Grade 3," said Etherington.
"We wish you a lifetime of beautiful memories yet to make, during your retirement. May it be filled with family, good friends, lovely conversations, curiosity and laughter. Thank you for all that you have done and your part in creating a warm and cheerful space for all that have entered the post office. Bless you and stay safe out there. We will miss you."
A memory that sticks out for Etherington is a post office trip in December 2009.
"In December 2009, Mrs. Etherington's Grade 1 class made it a traditional trek to the Burdett Post Office to deliver letters to Santa —we have it on good account that Mrs. Van Tol was critical on Santa's helper's list to ensure these letters were answered in a timely fashion," she recalled.
It has been ever since that classes have deliver their letters.
"I loved it," Van Tol said, on her time with Canada Post.
"I would encourage anyone to do that because you get to meet everyone and because I grew up in this area, I'm still young compared to some of the box holders still here. So, yeah, it was just healthy thing to do is to come here."
Van Tol said "It's home" when asked about what the Burdett community meant to her.
Van Tol grew up on as an Edlund on a farm south of Burdett and over the years attended Burdett School until she graduated before leaving for university, then travelled to New Zealand and Europe.
After that excursion, she ended up back in Medicine Hat with a job at the museum and a place where she met her future husband before moving to Bow Island in 1984 ,where she had her travel agency and raised her kids.
She then began a 24-year career with Canada Post in 1998.
Retirement plans includes spending more time with her dog Daisy and do more travelling.