Seven Persons celebrates community, history, and sausage at family fair
Posted on May 25, 2023 by Ryan Dahlman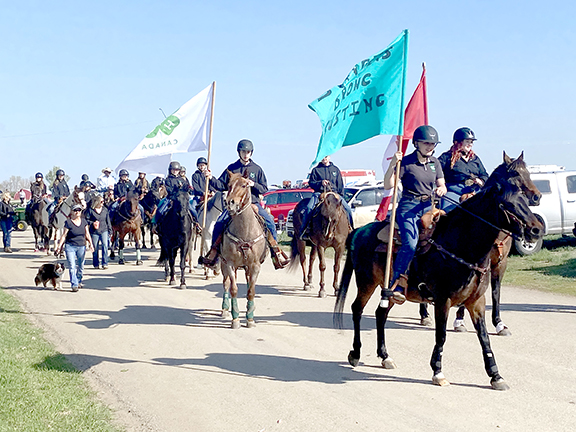 Commentator/Courier Photo by Anna Smith CELEBRATIONS: Crowds gather to watch the parade, featuring guests from nearby 4H clubs, the county, and local businesses and representatives. Vintage cars line the block for the Family Fun Fair show and shine.
By Anna Smith
Commentator/Courier 
With 33 years of local business, community, and knowledge under their belt, Seven Persons' own Premium Sausage combined their anniversary sale with a larger community effort to put on the Seven Persons Family Fun Fair.
On May 13, families from both in and out of town flocked to Seven Persons for a parade, craft show, car show and shine, and many other attractions, to take advantage of the warm weather and see the beauty and charm of the rural Alberta community.
"It's been quite a ride," said Debbie Penner, co-owner of Premium Sausage. "The anniversary sale had been going on for probably 20 years, up to 33 years in some form. And we just kept growing. We took over the business in 2009. And we kept adding little features to it and had more and more help from people. It's now a community thing. It used to be a Premium Sausage thing. Now, this is a Seven Persons Fair."